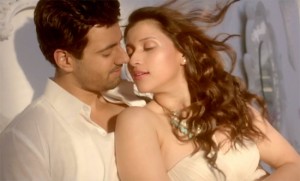 A face of over 200 advertisements, Karanvir Sharma is not a novice when it comes to being in front of the camera. Now that he is gearing up to be seen as the main lead in Zid, which marks the debut of Mannara and also features Shraddha Das as the third angle in this bold musical thriller, Karanvir promises that audience would be shocked to witness the drama that unfolds in this Anubhav Sinha production.
Meanwhile, one can't ignore the fact that Zid requires him to get into some bold encounters with both his leading ladies. Considering the fact that he is just starting out in the industry, was there any apprehension whatsoever?
"See, it is a just a mindset factor," says Karanvir in a matter of fact tone, "As an actor, the most dangerous thing you can do to yourself is get into a closed mindset. It is not like you get completely uninhibited; it is just that you need to strike a balance and have less inhibition. At the script itself I knew what I was getting into."
Well, if the promos and the songs are any indication, he seems to have pretty much got the graph of the character right while also understanding the 'sur' that Zid as a whole is adopting.
"Also, let me ask you something, isn't it better to see some real action between an adult couple than be subjected to two flowers pecking," chuckles Karanvir.
Now that's something we won't argue with! As for how far do these flowers bloom, we would get to know once the film releases all over this Friday.