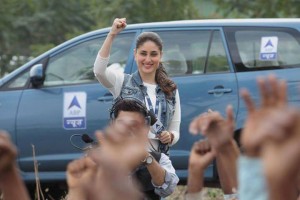 Kareena was recently caught appreciating the media persons. Kareena plays the role of a journalist in her recent release Satyagraha and thus she was able to empathize with the journalists. Guess it is easier to appreciate someone when you step into their shoes!
The 32-year-old actress, who was last seen in Talaash opposite Mr. Perfectionist Aamir Khan, is a part of Prakash Jha's political thriller along with mega star Amitabh bachchan, Ajay Devgn, Arjun Rampal, Manoj Bajpayee and Amrita Rao.
"I understood that journalism and journalists have a lot of responsibility playing this part. It is difficult. I do appreciate and respect them a lot more now after having put myself in their shoes in Satyagraha," said the actress to the reporters.
In the movie, Kareena plays the character of a television reporter who follows the entire movement which protests against the corrupt system. She believes that in our country, media is considered the fourth pillar and most of us rely on the media to get hold of the truth. Thus she feels that her character is quite interesting in the movie.
The buzz also doing the rounds is that Kareena has refused to get intimate on-screen. It is not new that the actresses refuse to do bold scenes post marriage. The next to join this bandwagon is Kareena Kapoor. Speculations are doing the rounds that Kareena Kapoor refused to do an intimate scene with her co-star Ajay Devgn in her recent release Satyagraha.
Kareena and Ajay's character required them to kiss on-screen for a song in the movie, but Kareena who, got hitched to Saif Ali Khan last year, flatly refused to do so. It isn't for the first time that the actors were asked to do an intimate scene. The duo has previously done bold and intimate scenes in Vishal Bharadwaj's Omkara. But keeping in mind Kareena's professional attitude, this news comes as a surprise to all in the industry.
Directed by Prakash Jha, Satayagraha hit the screens on August 30. 2013.