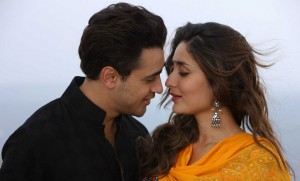 Here's some cool news! You can enter to be a part of the audience for a new exciting In Conversation with Raj and Pablo. BBC Asian Network presenters Raj and Pablo will be joined by two of Bollywood's biggest stars, Kareena Kapoor and Imran Khan for a special edition of BBC Asian Network's In Conversation With… series at the prestigious BBC Radio Theatre on Wednesday 30 October.
The Bollywood superstars will take you through their story so far and talk about their new film Punit Malhotra's Gori Tere Pyar Mein, which releases next month. This is the second time they come together on the big screen with their first collaboration Ek Main Aur Ekk Tu going down well with audiences.
The bollytastic boys tell us exclusively, "Delighted to be hosting RAJ&PABLO IN CONVERSATION with IMRAN KHAN and KAREENA KAPOOR for the BBC ASIAN NETWORK at the historic BBC RADIO THEATRE. We share a great personal rapport with both Imran and Kareena and are looking foward to have some fun and games with both stars – focussing on their unique on screen chemistry; exiburence and career achievements. AND in true Raj&Pablo style of course we may just get a wee bit naughty! Do register and be part of the audience and put your own questions directly to the stars of Gori Tere Pyar Mein."
So how can you be in the audience? They are conducting a random draw for tickets!
You can register for tickets at http://www.bbc.co.uk/showsandtours/shows/shows/in_conversation_30oct13 at any time until Friday 25 October at 3pm.
Tickets are free and will be allocated at random once registration has closed.
You can apply for a maximum of three tickets per household, and you must make your own way to and from the event.
Good luck with your application!
Stay tuned we will be bringing you all the news from Imran and Kareena's visit to London for Gori Tere Pyaar Mein!