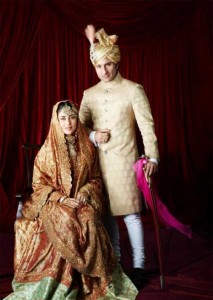 It has been a month since the Saifeena marriage now, but certain questions are still asked and wondered about. The question of Kareena embracing Islam is still in the air, to which Saif Ali Khan's mother Sharmila Tagore has clearly replied that Kareena Kapoor has not converted to Islam, but she is still the Begum of Pataudi. Defending Saifeena's absence at the Marrakech Film Festival which she was a part of, Sharmila said," Saif is busy shooting for Bullet Raja in Lucknow. He was going to take a break but I am glad he didn't, because he has worked very hard for his character in the film with his accent and the whole rural setting so coming here to party and have fun would distract him. Kareena's film Talaash has just released so she had to be around as well."
Talking about Kareena as the 'daughter-in-law', Sharmila said that things have not really changed. "Kareena is very calm and composed. I interacted with her during Tiger's illness and she is a very serene person to be with. I get along well with Babita and Karisma too, in fact I loved Karisma in Dangerous Ishkq and very recently I shared a platform with her. The film didn't do too well but she was great. Performances matter, even if the film is not too good," she added. So has Kareena converted to Islam? "No, she has not converted but she is still the Begum of Pataudi because Saif is the Nawaab. He is not comfortable with it, but my opinion is to take traditions seriously. He feels people may mock him and I understand that. But there is no point in denying your past. Maybe he thinks filling in his father's shoes is a little difficult, but he will get used to it," she said.
Recently, Sharmila had written a letter to the Board of Control for Cricket in India (BCCI) regarding the Pataudi trophy to which she said she did not get any reply from them, but the letter was leaked to the press and also told us that BCCI made a statement that when India and England will play in the UK it will be called Pataudi trophy, and in India it will be called the Vincent D'Mello trophy. So what did she say to that? "It is their decision. Marylebone Cricket Club had instituted a trophy in 2007 to celebrate 75 years of India and England playing together. Since Tiger's father played for England and India, the England and Wales Cricket Board also recognised it and invited him, to which he went despite not being well. I don't know what happened behind the scene since it was not announced. In November, I wrote to the BCCI with a request to make it official to which the president replied and said that the request has been forwarded to the concerned. When it became clear that the match was going to take place and nothing had happened, I wrote to them again. But no actions were taken. One cannot demand honour, only ask for it when they deserve it," she shrugged.
Talking about missing her husband, she said it is difficult talking about him and the loss is something she cannot express in words. She smiled and said, "Losing him has changed life, but his presence is still felt. I am calmer maybe because he is not there, or else I would be arguing with him. Tiger taught me so many things, he was my mentor. He made me more punctual. His absence makes me realize the importance of his wisdom and makes life simpler for me. He was also my spellcheck. When he was in the hospital, I discussed every single detail of Saif's wedding invites with him. Now, dictionaries help me. He was a person who always wanted to be correct."