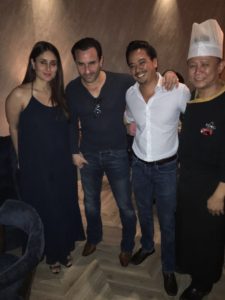 Kareena Kapoor Khan and Saif Ali Khan decided to join their friends at KOKO – the newest place the city dines and parties at in Mumbai. Keenan Tham, Partner,  KOKO recommended dishes off the menu to Kareena Kapoor Khan and Saif Ali Khan who were there with common friends. Bebo looked ravishing in a simple black dress and her pregnancy glow.
>Friday Night done right by the Khan's with a visit to the latest hot spot in Kamala Mills – KOKO by Ryan and Keenan Tham. Kareena Kapoor Khan who is expecting her first baby with Saif Ali Khan indulged in Asian delicacies like Hamachi Carpaccio, Crispy Pork Belly, Aromatic prawns and Chicken Longhai dimsums, while Saif Ali Khan sipped on Dirty Martini's and Sake. It surely was a perfect evening with the best food, drinks and company.
KOKO
Situated in the midst of a burgeoning corporate and lifestyle address in Mumbai, lies KOKO, 'Pebble Street Hospitality's' most recent venture. Combining their hospitality rich heritage, and the ability to take their legacy forward, Ryan & Keenan Tham, give you yet another frontrunner.
With KOKO's actual meaning being 'elder brother' one would think Keenan has taken the tradition of all their establishments named after family one notch further (Henry Tham, Trilogy & The Good Wife.). KOKO here stands for the place being bigger than anything else the city has seen. Bigger on music, the space it has to offer, the interiors, the cocktails they've concocted, on the richness of the food and bigger on the aura the place exudes.
Spread across 3500 square feet KOKO is set to become Mumbai's most legendary spot. 'Henry Thams' revolutionized the music scene of the city with percussionists & world music nights, 'Trilogy' gave the city a new meaning to the word party & 'The Good Wife' changed the eating & drinking patterns of corporates. KOKO is Mumbai's quintessential Asian gastro-pub and defines a very thin line between premium and luxury, making its mark in the high end elite genre whilst giving a sense of comfort to its patrons.
KOKO has collaborated with globally renowned UK-based mixologist Dimi Lezinska (Cannes & Oscar parties in his portfolio) to put together yet another iconic cocktail menu. He is one of the world's pre-eminent mixologists, the co-host of Discovery Channel's series 'Cocktail Kings' & the ex-global ambassador of a globally renowned vodka brand. He has brought a sense of versatility to the menu by playing around with diverse ingredients like Matcha, Kahwa Tea, Fresh Broccoli juice, Parmesan, White Chocolate. KOKO's rendition of Tom-Yum Cocktail isa winner! It adds a twist to the classics too.
The Head Chef of KOKO hails from Malaysia where he has mastered the art of making & plating.  He has curated a menu rich in taste & versatility that will allow patrons to nibble on sumptuous Cantonese style dim sums and delicate sushi. KOKO delivers his knowledge & expertise of Asian cuisine to the Indian palate in the most exquisite manner.
The backdrop at KOKO as tastefully done & innovative as its menu is done by Sumessh Menon & his team of architects. KOKO's interiors are at once, upscale and sophisticated, while being entirely unique, something which is evident when you lay eyes on the charming exposed-red-brick facade. The almost sculptural quality is down to the perforated bricks in an array of sizes and engraved with motifs, that make up the exterior wall. It is a space that hits the high notes with several elements that vie for your attention like the pièce de résistance—the 100-foot-long island bar or the Chinese warriors that come into play with shadow art to a sculptural wall made out of polished red brick forming a screen filtering light.
KOKO has been interpreted perfectly with a design that will evoke appreciation. KOKO isn't just an Asian gastro-pub; it is a transformative international dining experience.