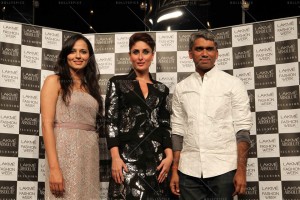 The Grand Finale show by top couturier Rajesh Pratap Singh presented by Lakmé Absolute was a scintillating fashion offering that concluded Lakmé Fashion Week Summer/Resort 2014. Raising the curtain on this season's style statement, Lakmé along with Rajesh Pratap Singh created a visual treat of fashion and makeup. It was all about high octane fashion and makeup trends that will excite fashion enthusiast during the coming season.
Inspired by 'Illusions' – Lakmé's statement for the season, the finale was a magnificent interplay of light on colour and was a true depiction of Rajesh's signature style. Complementing the outfits, the makeup was conceptualized with the new Lakmé Absolute Illusion range, comprising of eight metallic shimmer eye shadows monos and four limited edition nail colors.
Mirrors framed with lit diyas ran through the centre of the ramp while giant trees made an impressive décor and turned the lawns of the Hotel Grand Hyatt into a magical wonderland. To match the glamour and glitz of the Lakmé Absolute Illusion range, Rajesh Pratap Singh's collection titled "Illusion" played with contrasts as sheer fabrics moved gracefully from relaxed shapes in pastels to stronger solids. Pastels and metallic yarns came in perfect harmony to move into sheer glass weaves and then culminated in black and midnight shades with shimmering silver highlights.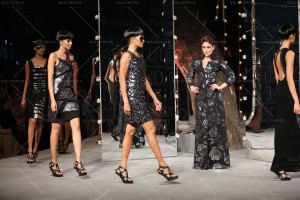 The fabric base exclusively created for; the "Illusions" collection had woven experiments in silver, stainless steel, paper, aluminium, hand woven and spun khadi, silk and linen. The "Illusion" story also brought trademark white shirts by Rajesh Pratap Singh as well as bias churi sleeves, the rustic bundi vest, structured jackets and the veil in more contemporary forms. The traditional adda (frames) hand embroidery method was tweaked to include metal.
The show opened with models wearing lit helmets with transparent graphic footwear in the iconic white Rajesh Pratap Singh shirts. Soon the pastel palette emerged with skirts, coats, jackets, glittering dresses, blousons; pinafores, coat dresses as well as shimmering shifts.
The black section was dazzling with mirror work on waistcoats, capris, jackets, tunics, tiny boleros, high waist trousers, belted shirt waisters, and gowns with placement mirrors and horizontal metal stripes. Men's wear was stylish with jackets, Bermudas, kurtas, blousons with interesting colour blocking and detailing.
The finale was a burst of fireworks around the ramp as Kareena Kapoor Khan, the brand ambassador of Lakme glided in a fabulous long sleeved V-neck, low back glittering black gown.
The show also served as the launch of Lakme's latest collection- Lakmé Absolute Illusion. The collection consists of Absolute Color Illusion Pearl Eyeshadows and Absolute Color Illusion Nail Colors. The makeup in the show brought alive this collection through metallic eye makeup on the models that created an interplay of color and light truly creating an illusion.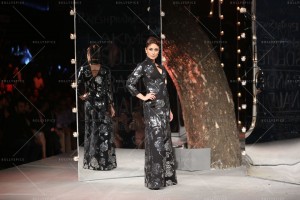 Rajesh Pratap Singh grand finale designer at Lakme Fashion Week Summer/Resort, "It was indeed a great experience of bringing alive the Lakme statement 'Illusion' at the grand finale of Lakme Fashion Week. Lakme has always been a trend forecasters for the country and with my new collection we have successfully married the concept of Illusion and duality at its simplistic best. The shimmer fabrics, metallic eyes and avant-grande kaleidoscopic set-up, came together beautifully to bring alive Lakme Absolute Illusion on the ramp."
Purnima Lamba, Head of Innovation Lakmé, "This season we have infused the magic of color and light into summer with the Lakmé Absolute Illusion range and Rajesh Pratap Singh's collection at the grand finale brilliantly complimented this beauty statement. Kareena was stunning as she flaunted the cool metallic shades on the ramp – that are set to be the biggest trend this summer."
The show fittingly brought down the curtains to another immensely successful season of Lakme Fashion Week.
This slideshow requires JavaScript.