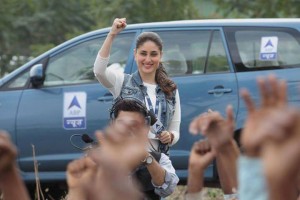 Kareena Kapoor certainly has played a myriad of characters over her fabulous career. With each new role she shows another side of her talent and impresses fans all the more. She has done many an amazing character in your classic Bollywood song and dance romance that we love (think Geet of Jab We Met) and we have also seen her shine in the dramatic roles as well like Dolly in Omkara and so many more. For Prakash Jha's Satyagraha, the actress once again takes on a more dramatic avatar, this time as hard-hitting journalist Yasmin. It was the character and the chance to work with the esteemed director, Kareena tells us, that made her want to take part in the film. See what else she told us in our quick but fabulous chat on all things Satyagraha!
What was it about this film that made you say yes?
I've always wanted to work with Prakash Jha. Prakash ji doesn't do the typical run of the mill kind of movies that are commercial potboilers. I think every actor has that that sometimes you want to do films which are slightly docu stuff, slightly more hard hitting, slightly more real and topical. I've done a lot of films that are commercial and have song and dance and that is a very strong part of me and which will always be there, but I also like to do films which are not typically box office commercial films. I've always been an actor that will do slightly different kind of roles.
Tell us about your character in the film, Yasmin.
I play the role of a journalist. She's a woman with utmost integrity, somebody who is very committed to her job. She is a journalist who will do anything for her report in terms of determination, dedication. She is quite hard hitting, she doesn't have time for love or romance. It's only about getting her story filed, working on the right causes, whether it's the Prime Minister of the country or whether it is any sort of politician. It is about supporting the right story. It sounded interesting and it sounded like something I wanted to do. I've never played a journalist before. When Prakash ji approached me I was like I want to definitely do it.
There have been a lot of stories about what this is film is about, what would you say is the story of the film?
I think the story is definitely about anti-corruption but it also is a story about a father and his son, it's about two brothers, it's about a man-woman relationship that is not exactly a typical man-woman romancing behind the trees and singing songs on top of a hill. It's about relationships and that's what makes it quite different and also interesting.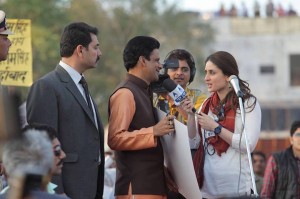 Tell us about working with Mr. Prakash Jha.
Prakash ji's like a one-man show. He's like an army. We shot the entire film in Bhopal. I've never seen something like this before. The way he ran it was like he was literally running the entire city. He has taken over the entire city and we had people playing background actors from the local people doing that because Prakash ji had trained them 6 months prior. So his kind of dedication to the kind of films he makes is absolutely amazing. Beside which I think he has the right balance making drama entertaining and if it has a message at the end of it, it's great. I mean we are not here to preach out a message on something. I am not a politician. We are actors. But if it has a message at the end of it, it's great! If it touches a cord with the audience then even greater. And I think that's what Prakash ji has had in most of his films. I think he's a great person as well. He's been wonderful to me and I hope to work with him again.
What do you think Yasmin would ask you?
Well, the only thing different between Yasmin and me is you know I have time to love and in the film Yasmin doesn't have any time for love. Kind of totally involved in her work. I think love fuels you and gives you the energy to work. But Yasmin is doesn't have that and doesn't see that. I always have that. So Yasmin would probably ask me that that how I do it, "How I do work and love".
What do you think audiences will take away with them after they see this film?
It touches you in every aspect. It has a soulful message of relationships behind it but at the same time a strong message of what is happening amongst the youth of our country. The way people are fighting for their rights is something that is the undercurrent of this film.
You have fans all over the world, what does their support mean to you?
I think it means that no matter what they've always been loyal to me. I've been very, very lucky. I think every actor builds their fan base. Over the years some films do well, some films don't. They are like die-hard fans to a certain actor because they just recognize the talent and recognize and respect that and their love for me turns to respect and vice versa and I think that's worth having.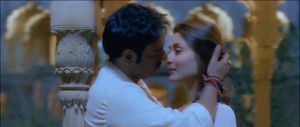 What do you have coming up next?
After Satyagraha, in November around the 22nd, we have a film with Imran Khan, which is called Gori Tere Pyaar Mein. It's much more lighter romantic kind of movie. It's quite romantic and cool at the same time. It's great because I loved working with Imran in Ek Main Aur Ekk Tu. I think it was one of my most special films in my career. I think this one is too.
Along with Kareena, Satyagraha boasts an incredible cast including Amitabh Bachchan, Ajay Devgn, Arjun Rampal, and Manoj Bajpayee and it hits theaters on Friday August 30th!
Satyagraha is the story of a son who yearns for a father. Of a father, who grieves for his lost son. Of a young woman who fights so hard with life that she has forgotten to love. Of an ambitious rabble-rouser, for whom action is the knee-jerk mantra.
It is the story of how these four discover one another, and come together to raise hell, shaking the powers that be to their very roots!
But, Satyagraha is also the story of an influential power-hungry despot who will stop at nothing to destroy them.
Satyagraha- The revolution has begun!