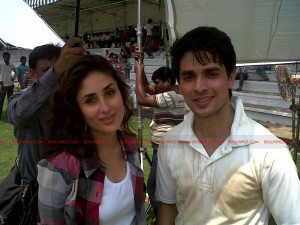 Bollywood's leading lady Kareena Kapoor has unveiled her new advert as Brand Ambassador for Limca. Kareena stars opposite Delhi boy and former-choreographer, Ansh Bagri, in the cricket-themed 'Pyaas Badhao' Limca advert that's currently heating up TV channels.
The model-actor admitted filming the dialogue with his screen idol made him blush, "Working with Kareena on the Limca ad would be a dream project for anyone, but getting so much footage is the cherry on the cake. Kareena is so natural with her acting that I was actually blushing in front of her while she was saying her dialogue and looking at me," Ansh revealed.
"As a matter of fact, twice I got lost and forgot my lines, distracted by her pretty face. I guess now I have a huge crush on her. In the ad Kareena says 'Pyaas Badhao' and she pushes me to do more. I actually feel the same in real life because this experience is really pushing me to do more," added the 24-year-old newcomer.
Since making the move from Delhi to Mumbai a little over a year ago Ansh has been in over 50 ad and print campaigns, including Cadbury, Reliance and Blackberry.
About fans thinking he resembles Shahid Kapoor, Ansh had this to say on the topic: "Some people say I resemble Shahid Kapoor, while others have said I look like a young Tom Cruise. Although I take both as a compliment, the only name I want to be compared to in the industry is my own – Ansh Bagri."
The actor is currently in talks with a number of directors over potential lead movie roles. For Ansh Bagri it looks as if 'Pyaas Badhao' with Kareena has only increased his thirst to make it big in Bollywood.
Here is the ad and another picture from the set!
httpvh://www.youtube.com/watch?v=PKDsvqqDDDU