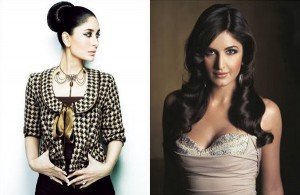 Till now the wars between our leading ladies were kept off-screen however courtesy of Madhur Bhandarkar's Heroine we're about to witness one such incident on the big screen itself.
Buzz is that Bhandarkar's Heroine has a sequence in which Kareena's character talks to a journalist about actresses in Indian cinema who are only famous because of a successful boyfriend. Whilst that was perhaps a less accusatory statement towards Katrina the dialogue is followed by Kareena's character asking the journalist to check said actress's passport for real identity and nationality. But wait there's more! The sequence also stars a 'Katrina Kaif' look alike!
How Salman Khan will react this blatant dig at Katrina Kaif and him is what everyone is waiting to hear about. Will this affect the special Kapoor-Khan bond we've seen over the years and which gave us the blockbuster Bodyguard?