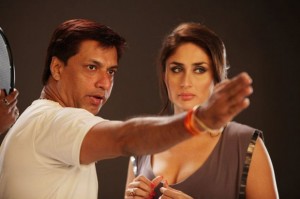 Madhur Bhandarkar is known for making films that offer up observational critiques of a particular industry, be it big business in Corporate, the fashion world in Fashion or his latest offering Heroine which tackles the dark underbelly of fame in Bollywood.
Speaking about the film recently to a leading daily newspaper, Bhandarkar explains that he approaches the film as though he is a reporter – attempting to present the facts rather than offering up solutions to the problems he brings up.
"If a subject intrigues me, I will go down to the very root of the matter. Some of my films do spread awareness. But I can't give my film a reel (rather than real) ending just to provide solutions. I've always kept my films as real as possible, and that's why I've created a niche for myself."
The only Bhandarkar film that has strayed from this tried and tested formula was Dil To Bachcha Hai Ji, a romantic comedy that didn't do very well at the box office.
"I think it did moderately well," says Bhandarkar. "We broke even as far as the budget was concerned. I don't make an attempt to just do realistic cinema. If I like a subject, I go ahead with it. So some day you may see me make a love story. I'm not here to set or follow trends. If I believe in a story, it will be made into a film."
He has enjoyed tremendous critical acclaim but his films, though successful, aren't associated with commercial glory. But Bhandarkar says that smart budgeting and a loyal audience ensure that his films do not lose money.
"I never overspend or make films with an exorbitant budget. Eighty per cent of my success is because of that. Because I've created an audience for myself over the last 11 years, those who like and enjoy my films watch them. And I do break even and make money as far as the films are concerned."
Coming back to Heroine, he states that despite the initial scuffle around casting the lead role (Aishwarya Rai was the initial choice but later dropped due to her pregnancy), he has zero qualms about finally signing Kareena Kapoor.
"Many actors called me, but Kareena and I had wanted to work together since my Chandni Bar (2001) days. She was destined to do this movie. She has proved her credibility. Bipasha, Konkona, Priyanka all did great jobs in my films, but this role was meant for Kareena and she excelled in portraying the character I conceived."
Heroine promises to be an exciting watch, bringing us a behind-the-scenes view of Bollywood in Bhandarkar's signature style and it is made all the more enticing because of Kareena's undeniable star appeal. Watch out for it in theaters on September 21st!