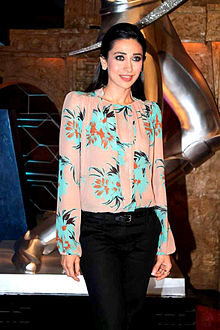 Actress Karisma Kapur, Bollywood's very own Lolo, apparently does not care about the rumours surrounding her personal life. She says that this is a part of being a celebrity.
There are rumours that Lolo's divorce with industrialist Sanjay Kapur is almost finalized, but the actress is not bothered by all these speculations. She shrugged and very casually stated," All these rumours about my life do not bother me at all. Anyone who is a known person is aware that things will be hyped, talked about and exaggerated. It is a part and parcel of any celebrity's life. They do not stress me at all."
Karisma's sister Kareena Kapoor recently married Saif Ali Khan and her performance in Talaash was loved by the audience. Lolo said that this will now show that the marital status of an actress does not define her success. Lolo made her comeback with Dangerous Ishhq after a gap of six years, but the film did not go down well with the audience.