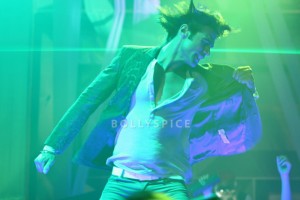 Filmmaker Suneel Darshan's son, Shiv Darshan, who will make his Bollywood debut in Karle Pyaar Karle in 2014, credits his choice of an acting career to superstar Akshay Kumar. "I never wanted to be an actor but one day when my dad was shooting for Talaash: The Hunt Begins… with Akshay Kumar and Kareena Kapoor, Akshay could not make it on the set as he was unwell, so my dad called me on the set for one shot on his place. At that time I had long hair and had to cut it for that scene," says Shiv. "That was when I realised how much fun it is to be an actor. So in a way I am an actor only because of Akshay Kumar. I love being pampered on the set," he added.
Shiv recounts how Akshay gave him a call after watching the trailer of Karle Pyaar Karle. "Mr. Kumar called after he watched the promo of our film. He really liked it and he said his best wishes are with us."
Starting his career with the upcoming film, the heir of the Darshan family is all set for a strong foothold in Bollywood. After all the hard work put into the role, the actor reveals his expectations from the film.
Talking about his journey so far, he says, "It has been a fabulous time so far. I have gone through gazillion emotions, nervousness, excitement, facing rejections. I have been injured, more or less everything has happened. All I'm waiting for is the release of the film now."
Getting to play a character that he can relate to, the actor reveals what the film is about: "It's an adrenaline gushing, action pact, edgy romantic movie. I'm playing this young daredevil who is rebellious and has a fetish for bets and taking up challenges. The girl in the movie also has more or less the same streak in her and therefore it is a story of two daredevils." Further adding about his leading lady he says, "Hasleen is wonderful. As you may know, she is Miss India Earth 2013. We had auditioned a number of girls for the part but the filmmakers weren't really happy. They saw pictures of Hasleen and they called her over. She auditioned for the part and in the next five days we were working together. He adds, "She just had five days in hand to adjust with the character and me. However, we gelled pretty well and I was really comfortable working with her."
When asked where this inspiration to become an actor came from, he shares, "I always wanted to be a part of the industry but I wasn't really sure if I wanted to pursue acting. Then there was this one instance that took place that made me sure about acting. My father was working on this movie called Talaash. The actor, Akshay Kumar, couldn't come on the sets for some medical issues, Bebo was supposed to go on an outdoor shoot for two to three months and it was the last song sequence that was pending. My dad then called and told me that I will have to step in for Akshay. The next I know, my hair was being chopped and face was being made-up. I kind of liked the pampering on the sets even though the shot was something very simple. I had to just walk and the camera was really far away. But I enjoyed the experience and decide to pursue acting."
Sharing an insight into his journey henceforth, he shares, "I was in Jai Hind College then, and I went to Kishore Namit acting studio. Further, I joined Mr. Anupam Kher and finished my course there. Still I felt incomplete and not fully prepared, so I decided to go to New York and I studied acting and dance at the New York Film Academy. When I came back, I felt confident and we began scripting."
Being from a respected family of filmmakers doesn't make the job any easy and he tells, "It is an advantage when it comes to getting a break but then the next thing is I have to live up to their expectations and have the ability to carry on that name for a prolonged career." Summing up his expectations from the movie, he says, "The response has been really good. I'm feeling good that people are appreciating my efforts and am looking forward to it."
Karle Pyaar Karle opens in cinemas worldwide on 10th January 2014, presented by Shree Krishna International and distributed by B4U.