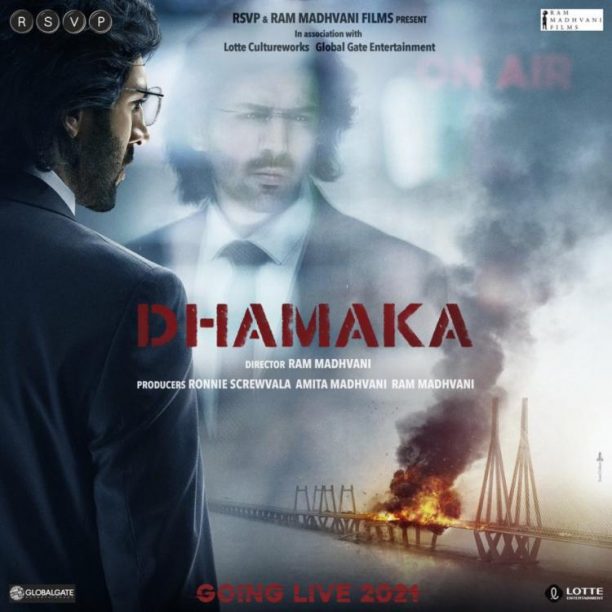 Now this one came out of nowhere and sprung a pleasant surprise. Kartik Aaryan recently unveiled the teaser of his upcoming film Dhamaka and though it was more of a glimpse that lasted just 51 seconds, it was enough to gain solid trending in quick time. Though it's two days since the teaser went online, it is still finding itself amongst the top trends with YouTube as well as social media continue to ho gaga over it.
While the official teaser has already garnered millions of views (over 3 million on YT alone at the time of publication), there is also sustained excitement around what does Kartik Aaryan bring for the audiences once Dhamaka arrives. As readers would recollect, this is the only film that the young star shot for during pandemic and wrapped up the shoot in mere 10 days just before the New Year. He had mentioned that the core concept brought to him by filmmaker Ram Madhwani was so rock solid that he instantly decided to be a part of it, even though back then he wasn't actively shooting for any film owing to the pandemic.
Well, the teaser pretty much conveys his reason for doing the film, considering he is being projected in an altogether new avtar. It is not just his look and the wardrobe that has gone for a change, the whole atmosphere of the film is the kind which Kartik has never explored before. While he has been a part of several feel good superhit films in the past, this is the first time ever that he is getting into an intense urban avtar where he is being a news person no less, while battling a terrible situation around him.
A film that has been designed especially for Netflix, it is being readied for the summer release, even as the post production is on. While the trending so far has ensured that the film is on the right track, soon enough there would be more exciting clips from Dhamaka that would be unveiled as well, hence promising a roller coaster ride for its viewers.
Stay tuned!