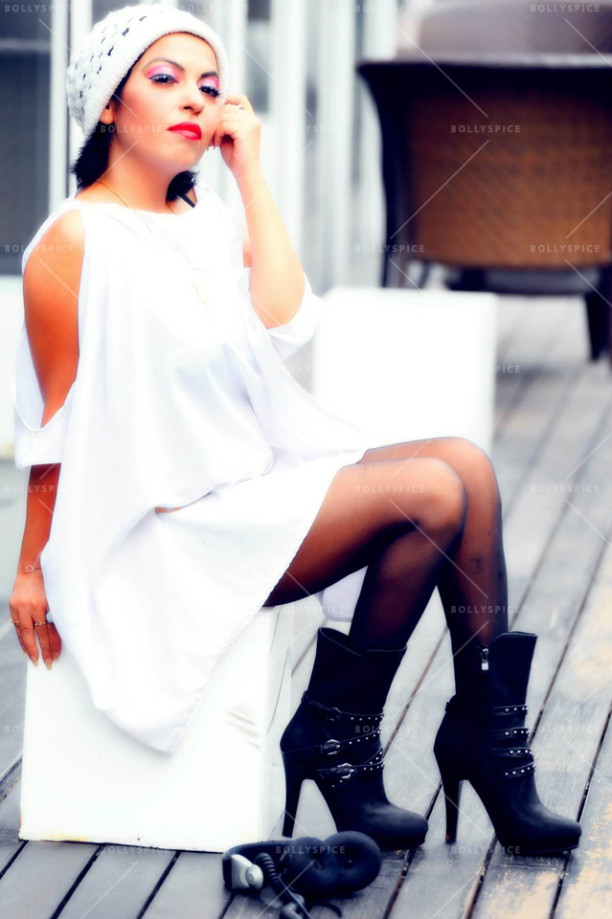 The forthcoming film Angry Indian Goddesses, features the song 'Tinko Ke Sahare', which has been composed by DJ/Music composer Kary Arora. Kary is known as India's first female DJ and she has featured in the Limca Book of Records. I recently had a catch up with Kary, and she shared with us details of how her journey in the Bollywood music industry began, and also how she landed the part of a composer for Angry Indian Goddesses.
Read on to find out more from the talented Kary Arora!
Tell us your journey so far, within the Bollywood music industry.
My journey started when I moved to Mumbai in 2011 with the intentions of exploring the field of music composing in Bollywood. At first it was difficult to understand the technicalities like who pays, who decides creative inputs, whats legal and illegal like copyright, credit and contract issues as the people I met in 2011 were a waste of time. I felt lost for a year, so I decided to be a ghost music producer for big music composers, but that too did not help as no one tells you their trade secrets. Then I decided to make a bank of my songs and research on overcoming technicalities. I met some awesome lyricists, singers, musician and an entertainment lawyer. I made about 40 songs in my bank and I started meeting big directors and producers, all used to say "your compositions are marvellous Kary, I will let you know", but that actually meant they are going for a big name composer. That literally broke my heart.
In 2013, Miss Rachelle Leocadio, owner of Spectral Records in Brazil was planning an asian album. She offered me to compose singles and I thought may be I'm destined to be as an independent artist as perhaps my music was too advanced for Bollywood. That's when my singles 'De De Deedaar De' and 'Sanware Ke Dhun' released. In 2013 I got an opportunity to meet Mr. Ram Gopal Varma and he took my song 'Satya is Back Again' in movie Satya 2. RGV sir didn't ask my background or my previous no. of soundtracks. He is a kind of person who instinctually knows the talented. He was thrilled with the kind of song I composed for Satya 2. After this, I was inspired to do more composing, lyric writing as now I knew I needed to find like minded people with the right kind of scripts in Bollywood and thats when I met Mr. Gaurav Dhingra in 2014, who is the producer of the movie Angry Indian Goddesses. I fell for the subject he was on. So far my journey in Bollywood is traverse. Its been a low-good high. You see skills don't come easy and the kind of support you need in Bollywood is complexed but with patience, talent, contacts and a little knowledge of trade's law, one can achieve heights in Bollywood.
What made you decide to become a DJ?
I used to mix songs on a double cassette-player before I formally decided to be a DJ. Everyone who partied on my mix tapes said I have a great sense of track selection, and the appreciation of those people made me to want to be a DJ. There were no profound Dj-ing schools back in 1997, so I joined a sound and light company in Delhi as a sound labor/DJ for rupees 300 to understand digital connections of console. I taught myself Dj-ing in one year, while shifting jobs in Delhi. Even today when people appreciate my track selection gives me a high.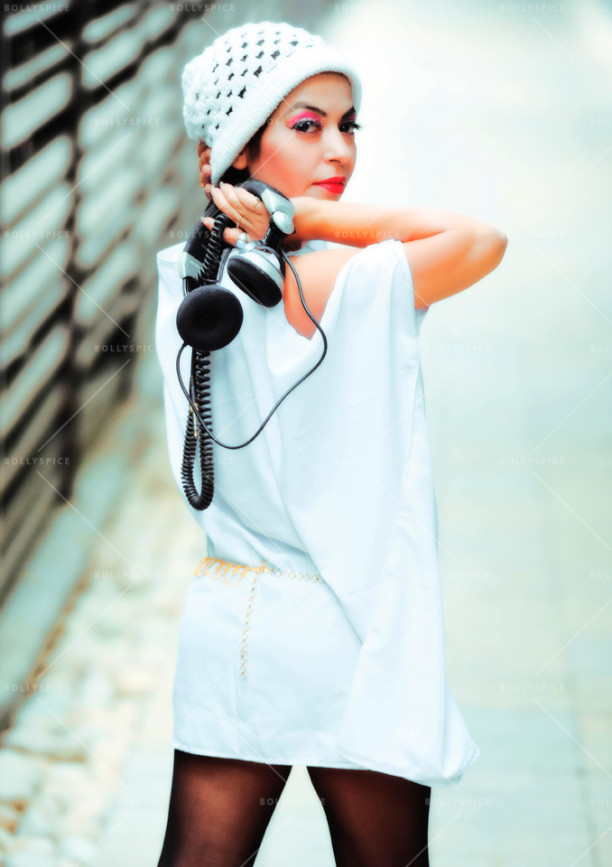 DJing is usually a very male dominated occupation, how does it feel to have achieved the title of being India's first female DJ?
Have you ever seen a child who wants to eat an ice-cream badly? Do you think that child would bother which gender (boy or a girl) is standing in the cue to eat that ice-cream? My desire to be a DJ was just like that child. Seriously, I never ever bothered to look into 'oh im going to break into a male bastion'. It's the people back in 1997 gave me the title of India's first female DJ and Limca Book of Records honoured me the same title in 2014 after one year of investigation. I feel with a big title, comes great responsibilities. Of course, I'm happy and thankful for this title, but at the same time, I'm responsible to set the right examples for the other girls venturing into this field. Its been 18 years of Djing now, every now and then DJ's irrespective of male or female, approach me with their problems and I'm happy to guide them.
You have recently composed the song 'Tinko Ke Sahare' for the film Angry Indian Goddesses. How did this project come about?
I met Gaurav Dhingra, the producer of movie Angry Indian Goddesses and he explained he is making a movie on women buddy-hood and it explores the relationships and lives of women. My immediate question to Gaurav was " you being a man, how come you chose this subject?" And he replied "As a man its difficult to express feelings in words but when we researched on the subject, we felt it needed to be expressed as an indian film because in indian cinema there is not much importance given to female characters." He introduced me to Pan Nalin, the director of the movie and I played them 'Tinko Ke Sahare', they immediately fell for the song as it somehow fits in the movie, because the song is about life's ups and downs. I found Gaurav and Nalin very down to earth, sensible and sorted in film making as they both know the subject of 'Angry Indian Goddesses' throughly and I can vouch that people will enjoy this movie.
Listen to 'Tinko Ke Sahare'
How has the transition been from DJing to composing – both are very different areas of music!
I'm generally a very poetic person. I remember winning a poetry contest at the age of 4. While Djing, I felt the musician and a poet in me but didn't know how to polish it at first. So the first thing I did, was a diploma in audio engineering from SAE, Chennai in 2004-2005. It technically made me understand everything about sound. But I still needed to learn songwriting and for that, I must know at least one musical instrument. So I learnt keyboards from Guru Ravi Prakash, grandson of late Shri Khemchand Prakash (who was the music composer of song 'Ayega anewala' of Lata Mangeshker in movie mahal). Djing helped me to understand what people like to groove on and I write lyrics and compose keeping this in mind. The fields are way different from each other, but experience in both fields helps me to connect with the audience on a bigger level. The thing about being creative person, is a greed of going deeper in the field and swim in it for life long otherwise you feel stuck. This transition made me feel contented as with 'De De Deedaar De' I explored rapping, with 'Satya is Back Again' I explored grunge singing and with 'Tinko Ke Sahare' I explored meaningful, deeper lyricist in me.
You had previously remixed 'Ishq Main Ruswaa' from Dangerous Ishq for multi talented Himesh Reshammiya. Please share with us something about this experience.
Himesh Reshammiya is one of the legendary composers of Bollywood and he is not easily impressed as his ears are gifted. I met him in 2012 while he was working on movie Dangerous Ishhq. We discussed about me doing one remix of the movie. Everyday I landed up in his studio walking from my house in a literal financially broke condition with different drafts of the song for 11 days and he rejected about 10 drafts I made of 'Ishhq Main Ruswaa' song. On the 11th day, I gave the draft to his employee as HR sir was not in studio. I almost gave up and cried walking back home thinking sir wouldn't like this as well but then later in the evening my phone rang, it was HR sir saying " I just heard your draft, wonderful job beta, come to studio we will finalise it. I want to encourage you and you will be credited as a remix artist in dangerous ishhq"
I was speechless and ran to his studio, I was offered to sit and edit among his brilliant team of musicians in his music room. Though I was a small part of the album, but that day I felt like an important musician among his great team. Everyone in his studio is friendly other than being poetic and HR sir is super inspiring.
Are you still open to remixing film songs?
No. I strictly want to stay as a songwriter. Perhaps I will explore film making next.
What kind of music do you like to listen to?
Honestly music to my ears is tree moving, water waves, birds and traffic making noise, I find rhythm in an old fan and a auto-rickshaw moving, someone knocking a glass full of wine while toasting a speech, etc etc. I have these dreams where I hear raw tunes from musical instruments. Its lunatic.
Who are your favourite music artists Western & Bollywood?
Its very difficult to label artists as my favourite as i appreciate all genres. To be precise i find RD Burman and Charlie Chaplin's compositions very entertaining.
Please tell us about your future projects, if possible!
I have few projects lined up but it's too early to talk about them, u see now a days we filmy people are very concise about maintaining promotional activities. At the moment all I can say my projects includes films and music videos under my film production banner, so soon I will announce it to the world.