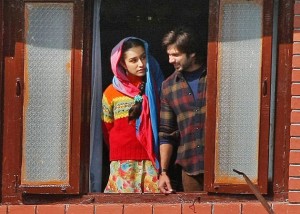 Shakespeare and Bollywood are famously going hand in hand with the playwright's adaptations being increasingly produced and portrayed on the Bollywood screen.For instance, Vishal Bhardwaj's first Shakespearean adaptation was "Maqbool" (Macbeth) 2003. Then came "Omkara" (Othello) 2006.
Behold, as next to arrive from the talented director will be "Hamlet", titled "Haider".
With a star cast including Shraddha Kapoor, Tabu, Shahid Kapoor, Irrfan Khan, the film is one of the many Bollywood productions to have selected Kashmir's breath taking beauty as a backdrop – some recent films being "Yeh Jawani hai Deewani" (2013), "Student of the Year" (2012), "Jab Tak Hai Jaan" (2012).
However, "Haidar" has been reported by the Telegraph (India) to be the first to have a strong Kashmiri presence, with the inclusion of at least 30 Kashmiri's in the cast.
"Haidar" is also a first in several ways for lead actor, Shahid Kapoor. Playing one of the leads, Shahid reportedly described his role as "…the best character of my life."
Shahid also described how the role is making him step out of the ordinary: "Vishal Sir is doing the third adaptation of Hamlet. Earlier he has done 'Omkara' and 'Maqbool', so it's (Haidar) is very different from 'R…Rajkumar' and it has taken me to a different space. I am enjoying that,".
However, things are not all fun and games.
The Shakespearean play is famous for being rife with conflict and tragedy and "Haider" is already living up to the controversial and tragic essence. Filming was underway at a Kashmiri University at Hazratbal, when all of a sudden, shooting could not commence on Sunday the 24th of November. However, there are two very different reasons reported as to why: One reason reminds of a South Asian tragedy, whereas the other seems rather trivial in comparison.
The first holds its roots in history, 1947 to be precise.
A university source claimed that students objected to a particular scene, extremely close to the heart of Kashmiri sentiments.
The scene consisted of hoisting the national tri-colour Indian flag, atop a makeshift bunker: "The shooting was going on smoothly till afternoon. Then some students objected to a scene… in which an Indian flag was to be unfurled. We took up the issue with them (the crew) and they agreed not to shoot that particular scene lest it inflamed passions."
Despite, Kashmir being a popular "beauty spot" of Bollywood, the wounds of Kashmir are difficult to conceal. When India was granted "independence" and Pakistan was created in 1947 – Kashmir fell into an uncertain place and continues to remain so – divided amongst three countries: Pakistan, India and China.
Reportedly, Pro-Azaadi slogans flared up amongst the protestors during the shoot.
The tri-colour flag has clearly touched a sensitive chord, reminding of a painful and unresolved Kashmiri reality.
Sources state that although police, who were already assigned for the security of the film crew, did chase away protestors, the filming could not continue.
According to "The Telegraph", India: "They (the crew) said they would move to another shot but, in the meantime, a police hawaldar picked up two students and an employee which agitated the students who started protesting."
The two students were briefly detained but then released after official University intervention.
The second reason of protest seems to go up in "smoke" when placed in the context of the matter.
According to a source, the University's chief proctor Nasir Iqbal, stated the protest was literally sparked up due to crew members smoking inside a non-smoking campus: "The university is a smoking-free zone. The students were objecting to that."
We will be bringing you more on the developing story of Haider so watch this space for more!