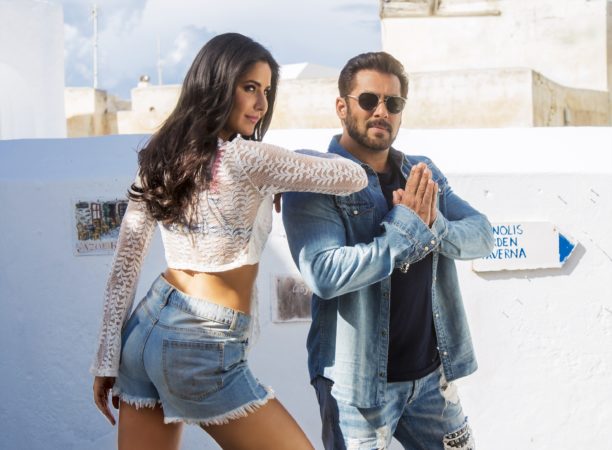 We have all been eagerly awaiting the first song from YRF's Tiger Zinda Hai. Featuring stars Katrina Kaif and Salman Khan the song is full of SWAG! So much so that it is called 'Swag Se Swagat'. In case you haven't heard, the song, choreographed by Vaibhavi Merchant and sung by Vishal Dadlani and Neha Bhasin, hits the airwaves tomorrow November 21st!
Here's a mini sneak peek!
Also just because he is so full of…well Swag we had to tease you even more with the picture Katrina posted on Instagram of Salman
And Salman posted this hot shot of Katrina!
Plus we have another cool behind the scenes story about the filming of the song and the party after!
Making the mega-budget action thriller Tiger Zinda Hai was not easy. The team had a hectic and demanding shoot every single day in challenging weather conditions. So, when it was time for the final shot of the celebratory song, 'Swag Se Swagat', it was time for the crew to party.
Shot on the picturesque island of Naxos, Greece, the visually stunning location inspired Salman Khan and Katrina Kaif to take charge and ensure that the entire film's crew had a blast on the final leg of this shoot. Their efforts to bond with the film's team and celebrate together have become a special memory for everyone who worked on this set.
A source from the film's unit said, "When it was time to wrap up the shoot with this number, Salman and Katrina made sure all of us had a fab time. All day, we would work to deliver perfect shots with dancers who had come from all over the world. In the evenings, Salman and Katrina would ensure that all of us would hang out and we bonded over great music and good food. It was a relaxed, fun shooting schedule thanks to Salman and Katrina."
Ali said, "The whole shooting of Greece song was one big party because this was the last schedule. Everyone was a little emotional that the film was ending and the way to fight that emotion out was to hang together and party every night and eat good food. When the song finished Salman and Katrina organised a very big party for the entire Tiger crew including the local Greek crew. Everyone let their hair down, cheered and danced all the way till the morning on 'Swag se Swagat'."
Are you ready for some Swag that slays? Watch this space tomorrow!
Tiger Zinda Hai releases on December 22nd!