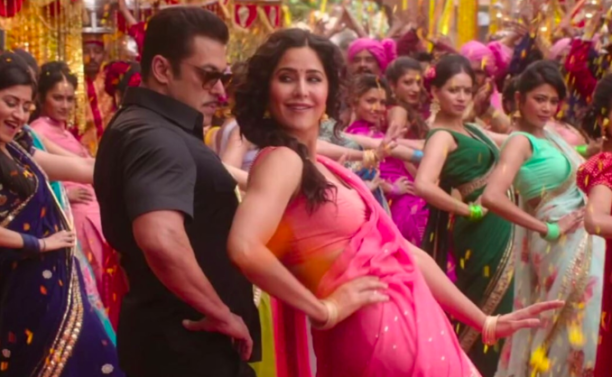 The makers of Bharat have released the newest song from the soundtrack Aithey Aa. The song shows the flirty relationship between Bollywood superstar Salman Khan and starlet Katrina Kaif, and their on-screen chemistry is flawless as always.
The song is a crazy dance number and the video shows Katrina wooing Salman with her incredible dance moves. When sharing the video with his fans on Twitter, Salman tweeted "Shaadi waala Desi gaana for this electronic zamana". The song has left fans in a frenzy, loving the traditional wedding song with an electronic twist.
Speaking about the song, director Ali Abbas Zafar said "Just imagine if 'Didi Tera Devar Deewana' was reversed with Madhuri and Salman switching places… that's what our song is".
Starring Salman Khan, Katrina Kaif and Disha Patani, the highly anticipated film Bharat is set to release on Eid al-Fitr this year.
Bharat is a journey of a man and a nation together. At the cusp of India's birth as an Independent nation, a family makes an arduous journey to freedom.
However, this freedom comes at a cost. An 8 year old boy, Bharat, makes a promise to his Father that he will keep his family together no matter what – a promise that he keeps over the next 60 years of his life, despite each decade throwing a new set of challenges at him – some humorous, some thrilling, some romantic while some life-threatening. His resilience, loyalty and a never dying spirit mirrors the fundamental qualities of our nation – Bharat!
Played by Indian superstar, Salman Khan in the title role, with Katrina Kaif, Sunil Grover, Tabu and Disha Patni, Bharat is an entertaining and endearing film about a man's sacrifices to fulfil a promise made to his father.