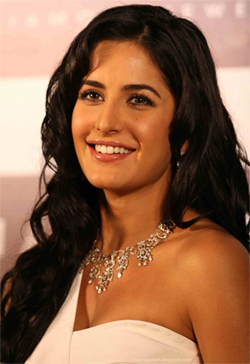 Katrina Kaif has recently admitted in an interview that she struggled for three and a half years in Mumbai before she finally got her big break in Bollywood. The 28 year old actress mentioned the following whilst being interviewed by Harper's Bazaar: "There were three and a half years where I worked every single day, sometimes for 16 hours straight. I took taxis and visited advertising agencies to personally hand over my portfolio." Mumbai is referred to by many as the heart of Bollywood, since most of the film studios and production houses are situated there. Every year, thousands of people flock to the city hoping that the industry will grant them fame and fortune.
Katrina, who is considered to be one of the most successful actresses in Bollywood today, also stated that she performed numerous auditions at studios hoping that she would be offered a chance by a filmmaker. "I regularly auditioned at studios where I held up a banner with my phone number scrawled on it. Soon, I started getting work, one thing led to another, and I made a natural progression into films."
In addition, Katrina spoke of how she prefers not to speak about her personal life within the public domain and only wishes to be asked questions that are related to her professional life. "I've always maintained that those aspects of our lives which are personal, and unrelated to our careers, shouldn't be discussed at work."
Katrina had a phenomenal year in 2012 with Ek Tha Tiger and Jab Tak Hai Jaan becoming huge hits at the box office. She will next be seen opposite Aamir Khan in Dhoom 3, which is scheduled to release on Christmas 2013.