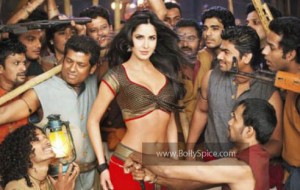 With close to three million views on Youtube in just five days, 'Chikni Chameli', the Bollywood tadka rendered by Bollywood beauty Katrina Kaif for Dharma Productions Agneepath, is already creating waves across the industry. The actress has spread her sizzling magic again – 'Chikni Chameli' has become the Number One song on radio in the major markets in India, Number 1 on Nokia Ovi Store, No 1 on online streaming sites like Saavn.com and Gaana.com, No 2 in the charts of India's biggest retail music store chain – Planet M. As Chikni Chameli in Agneepath's item song, Katrina has proved that she is capable of championing jhatkas and thumkas to pacy beats. Composers Ajay-Atul are delighted to have recreated 'Chikni Chameli' which has been adapted from the Marathi hit 'Kombdi Padali'. 'Chikni Chameli' is all set to be this party season's dance anthem worldwide.
Agneepath is the much awaited, contemporary blockbuster remake starring Hrithik Roshan, Priyanka Chopra, Sanjay Dutt, Rishi Kapoor and of course Katrina Kaif  – the 'Chikni Chameli' item girl. She worked for a ten-day period to provide the needed glamour and mood of the song. "The song is a rustic number, so she had to dance bare-feet on the uneven ground. Halfway through the number, she injured the soles of her feet as the continuous pressure peeled off her skin. Despite everyone telling her to attend to her injuries she continued with the dance without a whimper," says Ganesh Acharya, the dance choreographer for the song.
'Chikni Chameli' is picturised on Katrina, who acts drunk and is joined by scores of men including the lead actor 'Duggu' and 'Sanju Baba'. A comparison is being drawn between Chameli Katrina Kaif's koli avatar, Helen's kashti sari from 'Mungda…' (Inkaar) and Madhuri Dixit's fisherwoman attire from 'Humko Aaj Kal Hai….' (Sailaab).
In relation to this, Katrina Kaif says, "I don't want to be compared with dancing icons like Madhuri and Helen. Their songs are still being played on reality shows and for stage performances. They've done a fabulous job. I think they looked stunning in those songs." The actress, who is open to performing item songs, adds, "Mungda and the Madhuri song are classics. My song is relatively new. As for the look comparison, I don't think any of them wore a ghagra-choli in the songs you mention. But I'd take it as a compliment if I came anywhere close to what Helen and Madhuri did."
'Chikni Chameli' is available now on iTunes worldwide. Agneepath releases in cinemas worldwide on 26th January 2012.