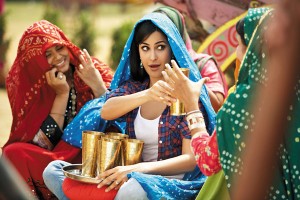 Katrina Kaif stars in this weekend's big release Mere Brother Ki Dulhan that will see the actress take on a new rock chic avatar and see her star alongside Imran Khan and Ali Zafar.
The Yash Raj production is a fun filled, romantic comedy that promises to keep you entertained throughout. The film tells the story of Kush, (Imran Khan) who has been set the task of finding his brother Luv (Ali Zafar) a perfect Indian bride. It is while searching for a bride that Kush comes across the zany London born girl Dimple (Katrina Kaif). If you think this is your same old love story then you are wrong because this topsy-turvy film sees Kush fall in love with Dimple. Will he be able to confess his love for her; well you will have to watch to find out.
Read on as the leading lady herself, Katrina Kaif, tells us all about Mere Brother Ki Dulhan, taking guitar lessons from Ali Zafar and why you should watch the movie.
Choosing Mere Brother Ki Dulhan
Let us start from the beginning. When you were first approached with this role, what was your initial reaction?
Well, when I first heard the script, I was shooting for Zindagi Na Milegi Dobara in Spain, and I thought it was something very different and new. I downloaded it from my email and I read it and I felt that it was something which had not been done or seen before, and that's the kind of way I have always tried to choose my films. I don't have any great detail or logic that I look for in a film. If I get a good sense from it and I feel that there is something interesting that we may be able to do with it then I just kind of go for it.
Katrina's character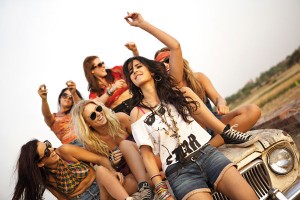 Could you describe your character and her style in the film?
I play a character called Dimple in the film and she has two looks in the film. One is when she is in college, which is the whole rockstar, grunge vibe – very unkempt hair, lot of kaajal on her eyes, just jeans and ganjees. She doesn't really care about the clothes she wears and that was a lot of fun. Rocky S and me worked together on that to come up with that. The second look is how she is in the film, which is about 4-5 years later and completely normal. She wears the clothes you would go and buy from Linking Road, jeans, t-shirts, completely casual, not giving too much thought or not over-styled. The main thing was to try and keep her real. She's not supposed to be an unattainable or overtly glamorous girl. She's a normal girl who is kind of adventurous and passionate about things and a little bit whacky. We didn't want the styling at any point to overpower anything, except for the college portion. I think it's worked really well.
In terms of the character you have to see the film and decide. It is something different and with everything risky that you do it's always a risk and you have to wait and see what the audience verdict is at the end.
What was the special thing about the character that you would like to tell us about?
I think more than anything it was that I felt that there was room to interpret the character the way that I wanted to and that there was freedom. I knew the director, I knew what he was trying to do with the film and I felt that there was room for us to experiment with this different kind of heroine. At the end of the day you experiment but you only know, whether you are right or wrong, once it releases at the box office but at least you can give it that attempt.
How did you prepare yourself for the character in the film?
There wasn't much character preparation to do, it's just finding your interpretation of the character and getting onto the set and finding who is this girl and who do you want her to be. It's not like you have to train for something, read books or do some research. It's a really fun, romantic comedy so it is more so getting onto the set and everyone working together and trying to bring whatever they can to the scene.
This is quite a girl-driven film. The female protagonist of the film drives the movie. Was that something very challenging for you?
I don't know if there's ever been a female-driven film or a male-driven film. I don't believe in that. I believe a film is a film; a movie can only work if everything about the film works. That's why when people ask me about my characters I play in films I always say that it doesn't matter.
I see the movie as a totality and for me the romance, the story and the chemistry in this film was very interesting. I think the reason myself and Imran were really happy and excited about this film was because of the scope for us to have a new dimension between the two characters on screen rather than your more traditional love stories.
Working with Imran Khan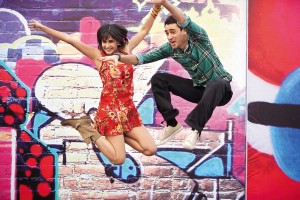 You were being paired opposite Imran Khan for the first time. What was your impression before you met him and what was your impression after you actually met him?
Imran and myself were offered films before, which for some reason or another never worked out due to something on a script level or something on dates or it just wouldn't work. For me things have always seemed to fall into place at the right time when they were meant to be and I think we just both instantly liked it. I remember I said I liked the film and then they spoke to Imran and the director told me Imran loved the film and it just happened very quickly, we probably started shooting the film three months after saying yes to the script. I think initially there was some awkwardness but in the end I think it's really worked out in a very great way. We slowly got to really appreciate what the other person brings.
Working with the director, Ali Abbas Zafar.
You've known director Ali for a while. He was the first AD on New York, your first film with YRF. Tell us a little about yours and Ali's relationship.
The director Ali was the first AD on New York, which was the first film that I did with Yash Raj, and that was an amazing experience for all of us. I knew he was writing a script but work is work and I really take my decisions very independently even if you know the person or don't know the person. I read the script with a very open mind and I instantly thought that this was something that I just wanted to do, I don't know the exact reasons but it was just an instinct.
I think that it has helped us in a certain way that everyone on the film is young; no one is conscious of each other and I think that enabled us to be very free.
I think there's a lot of a certain personality or a certain side to me that most people wouldn't normally see or have not seen before. It's something that I am also curious to know, whether that kind of being really free and that kind of being really not at all conscious; whether people will notice something different in the film.
Working With Ali Zafar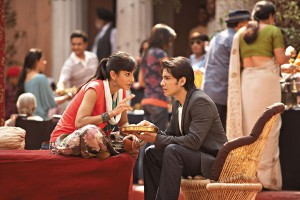 Let us talk about Ali Zafar, who plays the character called Luv.
Ali Zafar was somebody who none of us really had met before the film and he of course plays Imran's brother in the film. When he came onto the sets I thought he instantly added a really fresh and new dimension into the whole dynamics of everything, he instantly got the tone of the film. He is a really, really good performer, I think he is great at comedy and he just brought a really fun vibe onto the whole shoot of the film. He is also a musician so in between the shots, we were shooting mainly outdoors in big spaces so we had a lot of space, he played his songs for the whole unit; you know playing on the guitar, which was nice. It was just a big bunch of group of friends hanging together on and off the sets.
Ali Zafar claims to have given you some guitar lessons, which later translated onto your screen image.
(Laughs) Well, I don't think he should be taking any credit for my guitar playing skills or lack of them in the film because I don't think they are very impressive. But, yes he did try to teach me some guitar and I did try to learn but it was a little futile. We didn't get past more than 3 chords so I don't know if he is the best teacher or I am just a bad student but it didn't work out too well.
He also seems to take credit for your cricketing skills…
Yes, we played a lot of cricket in the film. That is something that I really enjoyed and actually kept me fit and gave us a form of exercise in between the shots. Imran would be patient enough but his kind of tolerance level was about 15 minutes and then he was like 'I am done playing cricket with you, I am not throwing the ball for you anymore.' So he would wander off and Ali is extremely passionate about cricket. But the sad thing is he is under the misconception that he is a great cricket player. In fact, I think I am probably as good as him; but he is under the impression that he is teaching us all cricket because he really feels he is supreme in the game when he is quite ordinary. I have tried to explain that to him but I don't think he really gets it. (Laughs) The whole unit would sometimes create two teams and play. Of course I have my own special rules when I play cricket, which everyone kindly lets me follow.
Working on the sets of Mere Brother Ki Dulhan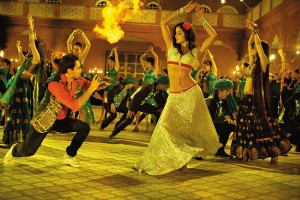 Let's get to the beginning, to the shoot. You were shooting in places where you must have been before in Delhi, Punjab, how did you find that?
We actually shot in some really, really nice locations in the film. I have shot before in Northern India in Punjab but this time we actually got to shoot in Delhi, and I always wanted to shoot a film in Delhi. We got to shoot in the main areas in famous landmarks and monuments in Delhi.
We shot for a month in a place called Nabha, which is near Patiala and in this really small, dinky hotel, barely a hotel called Iqbal Inn. I remember Imran being terrified when we walked in, I think everyone was terrified, but I think that's where it helped that we were all friends and a young unit and everyone just went in there and said let's just have fun. We were all staying on one floor and we stayed there for about 25 days. We would pack up every night, come to the hotel were there was no other food besides dal, roti and tandoori chicken and just being there in that whole environment, I think Imran was the most concerned, we would all pull his leg about it.
There were lots of road scenes and places where you were in a car or a scooter in the middle of Delhi and in the middle of Chandigarh, with the crowds following you all around, how was that experience?
I mean obviously if you are going to shoot in public places, there are always going to be people there, you have to really keep your concentration and not allow it to distract you because you will be doing a really important scene, or a scene which requires you to concentrate, and you have people on either side of the street which are not visible to the camera or in the frame and they will be shouting and screaming. But in the end it was really fun and a nice experience to see all of that.
The Slap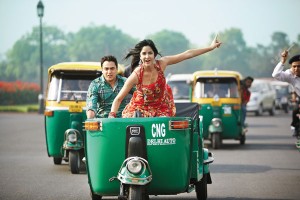 Now lets talk about some specific events that happened on the sets. There was a very critical scene in the film where Imran confronts you and you are supposed to slap him at a certain point. Imran was saying that you slapped him at least 20 times.
Yes there was a scene in the film where Imran confronts my character about something. I didn't feel we were getting the tone of the scene right and I was getting very frustrated, and at one point I have to slap Imran. It was quite a long take, we did about 15 takes, and because of the close proximity where he is standing and the camera, you can't really cheat a slap so Imran was like, 'Just slap me for real or look real and it will have more impact.' so I said, 'Okay fine.' Well, I don't think he anticipated that we were going to shoot that particular bit like 16 times so he got an awful lot of slaps from me and they were pretty hard. By the end of it he was like, 'I can't take any more slaps,' but we got it really well in the end and we were happy with it.
The Gun
On a separate occasion, there's a scene where you hold a gun.
There's a scene in the film, which you can see in the promo, where I am holding a gun to Imran and I am having an argument with him. I have those long rifles that the watchmen usually have and I am holding it on his neck and he is supposed to push me away. But somehow some mis-coordination happens and that gun ended up whacking me in the face pretty hard. All the staff on the film was saying, 'Aah last time this happened that film was a hit, so yay! It's good luck!' I am sitting there with a huge bump on my face in agony saying, 'Yeah it may be good luck but it really could be avoided' and (smiles) Imran completely blamed me and said it was all my fault, as I am clumsy and uncoordinated and that I pushed the gun into my own face and I am like, 'why would I do that.' I think the bottom line is that it is Imran's fault and he is responsible for me getting that bruise on my face, whether he likes it or not (mock-seriousness).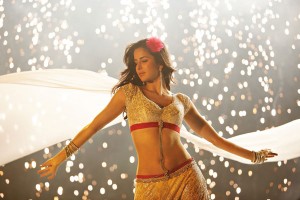 Do you remember any difficult sequences, which you had where you really had to push yourself?
The other sequence that was a little difficult was the scene where I did the dialogue from Sholay. It was the first day of shoot with Ali Zafar and my second or third day of shoot with Imran so none of us really knew each other very well. Ali and Imran were sitting down in the car, in the driver's seat, and I am standing on the bonnet, wearing a short dress and I am supposed to be kind of high saying Dharamji's dialogue from Sholay, where I am referring to Ali Zafar as Basanti and Imran as the 'bad mausi' who is coming in between. It is very funny and that's what I liked about the character – it's the girls giving it back to the boys. But it was a little awkward since none of us knew each other, and I am standing up on the car and they are looking up at me whilst I am screaming and shouting at the top of my voice late at night. I think in a way it broke the ice and everyone after that was like, 'okay you are kind of crazy' (laughs), but I think that's when we got the tone of the character and it was a lot of fun.
The Music
'Dhunki'
'Dhunki' was an experience for the entire cast and crew out together. You all were shooting in the mad heat of the northern plains in Agra.
We shot the song 'Dhunki' in Agra and that was probably the most trying part of the film. It was way too hot to be shooting outside as there were uncontrollable crowds, you are hot and bothered and the media was constantly filming everything from a very close distance. It was probably the most difficult shoot I have been on. When you are on a set you don't want to know that everything that you are doing is going to be shown on the television in the night but we couldn't stop it. I think everyone just really had to work hard and come together and say, 'Okay chalo, it's a 4 day shoot, it's going to be really difficult but let's try and see what we get out of this.' I think we managed to pull it off together and everyone was really happy and just glad for it to be over. In the end there have been so many crowds around who actually helped us.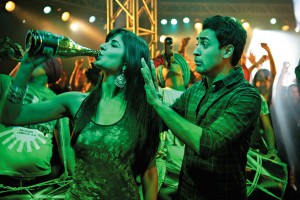 People have called it a brave attempt from your end to actually go through those crowds, as there was some 10,000 people lined up all across the ground.
I have never been afraid of crowds or people. I guess this is because I have always shot from the beginning of my career in public places and at the end of the day the people are there just to see you, they are not there to hurt you or to bother you. They are just there and they support you and I think you have to respect that and appreciate it. Sometimes it is a little bit in your space when you are trying to work and it is difficult, but it is ok as I am very used to it and I can learn to just block it out.
'Choomantar'
'Choomantar'is again a song that I think required more than choreography. It required Imran and my characters to stay as they were in the film and have fun. It is this 24-hour space in which they have this incredibly mad day and night and they just run around. If you just imagine, a day off and you are going out with your friends and you are just doing anything mad; roaming around in the park or having food or going to a nightclub. It is just a very regular day that any of us would have on a day off, but obviously my character in the film is very over-the-top and a little bit mad and Imran is constantly trying to control her and keep her within the limits of what is right and wrong, and it's a lot of fun. It is something that I think is a very new space and has got freshness to the whole approach of the song.
Let's talk about the love track in the film, 'Isq Risk'…
'Isq Risk' is again a song that I think is done in a very tongue-in-cheek way. You have Imran dressed as an emperor and me as a princess; it's all a very larger than life take on things with a bit of a comic feel to it. You also have the intercut with real shots of the things that are going on in the film. That again was an amazing experience to shoot. We shot in front of the Taj Mahal with huge, huge crowds and they used to find it extremely funny. There's a shot of me feeding Imran grapes and every time that we used to take the grapes down to Imran's mouth, the entire crowd would burst out laughing, and Imran found it very awkward. But I think that also adds, sometimes, to the energy on the sets and to what you are doing. I think it looked beautiful and just adds another dimension to the whole film.
Let's move on to one of the tougher songs to perform, 'Madhubala'.
'Madhubala', we had the roughest time of any film I have ever done on this song because we were shooting in the wrong temperatures, at the wrong time and it was too hot and it was the most trying shoot for me, for sure. In this song everyone is supposed to be a bit high on bhang, and it is at a roadside dhaba and Ali and Imran have a lot of dancing to do. I don't have that much dancing to do and I was finding it extremely funny because they both love dancing. Well, obviously it's a joke (smiles). Imran doesn't really love dancing and Ali, he has never danced before and it was a million degrees and it was an extremely funny situation. Again it wasn't about dancing so much, it was about everyone having fun and there are some of the funniest shots and sequences that I have seen in that song. Now I think it is just a matter of whether people enjoy that whole space and not take it too seriously as I think it's a completely whacky song.
Tell us about the final song of the film 'Do Dhaari'
That is the sangeet song in the film, where it is Imran's performance more than anything. Even though it was in the night it was hot and incredibly humid. We were running against time and everyone was always under huge pressure on the songs. It was the first big sangeet song Imran has ever done and I don't think he's performed like that before and he did really well. He had patience, he was there and was full on in his energy and the whole bit he did with the boys was really, really nice.
I hurt my back again on that song; I have a tendency to hurt myself in at least one song in every film. We were doing some movement where there was a track falling and I am dancing, Imran is on a trolley kneeling and kind of singing, and for some reason I didn't move and my back went out. We had to do about 15 takes of that so I had a lot of pain on that song. But I think it's going to be really nice to see Imran do something like that for the first time.
Working with the rest of the cast
Let's talk about the other crew members, the other young crew members such as Bosco-Caesar.
Bosco-Caesar did the songs in the film. In keeping with the film there was a lot of room within the songs to do a lot of fun. It is not just about a step or choreography. In the song 'Dhunki' it was much more about trying to get a vibe, it's not a rockstar vibe, people are saying a rockstar vibe but to me that is not what it is. It's really just about a girl who is in college with a bunch of her friends and they are just out to have a good time, whether it's just roaming on the roads or getting on bikes or playing a guitar and it's that whole vibe of just being free and not having any concerns and living a carefree life in college, which is when she meets Imran's character. So even in that song even though obviously it is shot and there are steps in certain places it is much more about a kind of vibe or attitude. We have to try and remain true to what we were doing with the film and retain that in the songs, the madness of the characters and the energy.
And of course there were some properly choreographed dancing numbers which Imran really loves, so we were all really supportive of him and we were all really trying to persuade him. How great it is to do these choreographed numbers and he has done such a good job in the film. I think we were all so happy that now he is become a convert to the Hindi film choreographed dancing and of course, again, Ali Zafar, who is a good dancer with a lot of practice (Smiles).
Let's talk about the crew members who were working on the set – with cinematographer Sudeep da (Sudeep Chatterjee) for the first time. What was he like?
Sudeep da had a very difficult job on the film because of the locations, the crowds and the heat. He had to move really fast and keep in mind the look of the film and make us look good. I think he had, probably, one of the toughest jobs there. You can't get stressed or too pressured or start panicking, and he was the most senior person on the sets so he had a lot of respect and he held the team together in a great way and gave us that little bit of grounding.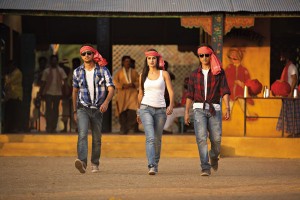 You were also working with some senior actors like Mr. Parikshit and Mr. Kanwaljit. How was that experience?
They were extremely lovely. We of course had the senior mummies and daddies on the set who were extremely patient and so lovely and supportive of all of us. They were so sweet; they really were team players, they came in and they really joined the whole group and just became one of us and it was a lot of fun.
You have seen this film from its ideation to finally its execution. How do you think this movie has turned out?
You can never tell it is something we can never know. I think what's important is that you get an instinct, you like something, you work your 100 per cent on it, you work as hard as you can and after that it's not in our hands what happens. The fate of the film is in the hands of the audience; in the hands of God, it's our destiny. But now that we worked on it, we have really had a good time and the main thing is to show that to the audience and give them a chance to say, 'Okay, you know, we like what we see.' That's something we have to wait and see and pray that it does well and all our efforts were for a good purpose.
Why should someone go and watch the movie?
I never have a reason why someone should go and watch a film. As I said, you take a film, you put in as much love, as much hard work as you can, you give it everything and then you put it out for the audience to see and judge. And then you just have to hope and pray that they do -that's the way it works.
Mere Brother Ki Dulhan releases in cinemas September 9th 2011, Katrina Kaif stars alongside Imran Khan and Ali Zafar.