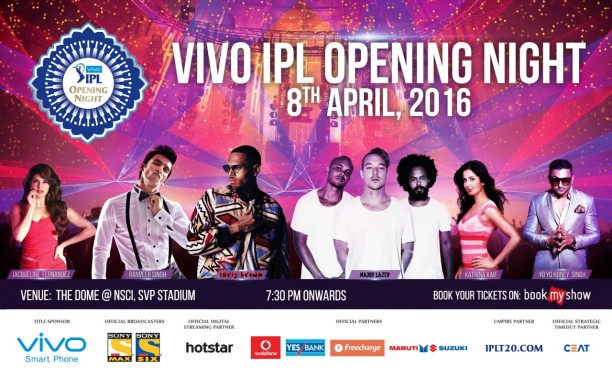 No other cricket event in the whole world brings as much oomph and panache to the sport as the Indian Premier League does. The T20 tournament brings together the superstars of the game in an epic festival of club cricket at its best. In its ninth edition, the 2016 VIVO IPL promises to be even better with a star-studded opening ceremony at the Dome, NSCI declaring the tournament officially open. While lights, camera and action have indeed introduced IPL cricket each year, it would once again be cricket that will light up the country over the next 47 days.
India's leading event management company, Ferriswheel Entertainment is all geared to put together an exhilarating statuesque show for the prelude to the 10th year anniversary of one of India's highly anticipated sporting events. VIVO IPL this year will feature mega pop star Chris Brown for the very first time in India and dancehall reggae trio Major Lazer with Nana Richard –Fuse ODG and Nailah Thorbourne at NSCI Dome on Friday, 8th April 2016.
The relationship between the glitzy world of Bollywood and the action-packed stage of IPL has been well-known since the inaugural edition in 2008. The opening ceremonies each year have been a mesmerizing treat for the senses and Friday's event promises to be even better and bigger. With celebrities like Ranveer Singh, Jacqueline Fernandes, Katrina Kaif and Honey Singh all set to dazzle the stage, the two-hour long opening ceremony promises to be an absolute cracker.
The stadium will be converted into an insane cricket party bringing to the fore the spirit and sportsmanship of cricket by combing a 360 degree experience of state of the art technology and seamless entertainment.
Matching the energy, verve and spirit of the competition, as part of this year's celebrations, onlookers can expect maximum fan integrations with their favourite cricketers on ground. All eight team captains will be present to take the MCC Spirit of Cricket pledge, reaffirming the values in IPL's commitment to the Spirit Of Cricket, which has been on display since the competition's inception in 2008. Mumbai Indians will put the trophy back in play, signalling the start of the 2016 season of the competition.
Tickets are live on bookmyshow.com and prices start Rs. 10,000 /- onwards. The ceremony will be telecasted live in 32 countries on Sony Max and Sony Six on the8th of April 2016 from 7:30pm onwards.
Shubhra Bhardwaj, Founder and Creative Director of Ferrishweel Entertainment who has been assigned duties to manage the opening ceremony of this year's IPL states, "This year we aim to bring to the forefront the energy of the game that will translate on ground though high decibel performances and never seen before technology. The crew employed on this year's IPL is mammoth with staff members working day and night to make the big night a success. Special technology is being flown in from China. More than 1000 security personnel will be deployed considering we have top of the line global acts that we are bringing to the country. Huge efforts have been put in by everyone. Kudos to the way Ranveer, Katrina and Jacqueline are working!"
Chris Brown : "We are very excited to perform in India for the very first time. Big up Ferriswheel Entertainment and Shubhra Bharadwaj for making this happen. Looking forward to a crazy night of mayhem and meeting all my beautiful people in India."
Major Lazer : "At IPL we treat the whole city like one scene and we bring everyone out for music, food and just good energy all around. All of us in Major Lazer are excited to be back in India bringing carnival to the fans."
Ranveer Singh : "My act will honour the spirit of cricket and victory. I want to dedicate this performance to all the cricket fans across the world."
Katrina Kaif : "Cricket and Bollywood have always been closely associated and what better way for me to show my support!   I will be performing live on the 8th of April and am totally looking forward to the experience. It is going to be fantastic!"
Jacqueline Fernandes : "My act focuses on the intensity and the determination of the players. I am very excited!"
Honey Singh : "I'm looking forward to put together a bad ass performance for all my fans. I'll be performing some of the most iconic Yo Yo Honey Singh songs. I will showcase to the world how music and sport go hand in hand."