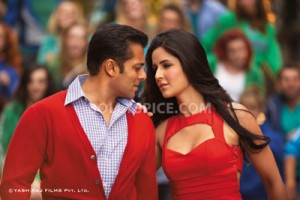 Katrina Kaif certainly is playing with the big boys lately not only starring with Salman Khan in the upcoming Ek Tha Tiger but also with Shah Rukh Khan in Yash Chopra's untitled romance, then of course she also has Dhoom 3 with Aamir Khan.
Talking about the triumvirate Khans she said in an earlier interview with TOI, "As for the Khans — I don't think anyone can be them. Aamir, Shah Rukh and Salman are phenomenon. To achieve that magnitude of popularity and remain heartthrobs for over two decades is not an easy feat."
Though she has starred with Salman Khan before, this role and film is not your average YRF love story. In fact, Ek Tha Tiger, which releases on August 15th, is more Salman Khan action with the romance added in. Though the main lead is Salman's tiger, her Zoya is an important part to the story. She said, "I'm grateful to my directors that I'm not just an ornament in a Khan film. My roles have substance. This can be a tricky situation. One can be tempted to sign a project because you want to work with an actor whom you admire but it is also equally important to have a credible role in such a project. Salman is holding the fort; but my role has credibility. Kabir will never write a candy floss role for his heroine."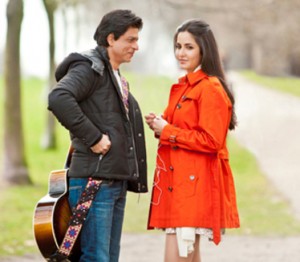 Talking about a favorite scene of Salman's in ETT, the actress would not give much away but did tell Hindustan Times, "I can't reveal it, the filmmakers will kill me! It's just before the interval. He gets into this serious, intense and anguished mode; very real and dramatic at the same time. He reminded me of the classic Hollywood heroes. This is very unlike the usual stuff that Salman does."
She credits Salman for giving her guidance in driving through the tricky lanes of Bollywood, "He has immense knowledge of the industry and this is where he helped me from going astray."
She also credits another great co-star of hers Akshay Kumar, "I was young, impressionable and hardworking. In fact, Akshay Kumar is one of the few people who instilled confidence in me. I pick up things by watching people around me, and I picked up a lot of things from Akshay. To be fair there are many people who have played different key roles in my life."
On the next film, the Yash Chopra romance she says, "I am fortunate that I have a fabulous role in my film with Shah Rukh. Yash Chopra celebrates his women characters."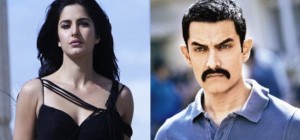 About starring with Shah Rukh Khan, Katrina said, "He's an iconic figure in the industry and I have a lot of respect for him. I had seen Veer Zara. He's a superstar; a romantic icon and I desperately wanted to work with him. It's like your resume is incomplete if you haven't worked with Shah Rukh Khan. He's a patient and supportive co-star."
Adding she was very nervous working with both SRK and Yash Chopra, "While shooting the film, I was tense and nervous to work with him and Yash Chopra around. The thought that I must not let them down was a constant burden on my mind, so I didn't really have time for anything else."
Katrina is on such a roll with roles with the Khan's that some people have dubbed her the 4th Khan. Her response? "If people call me the fourth Khan, I want to stand on this table right here, dance and be happy. I seriously don't take praise to my heart or to my head. I only want to work harder and never get complacent."
We are eagerly awaiting all three films with Kaif, Khan, Khan, and Khan!