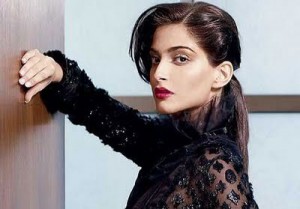 Slumdog Millionaire star Anil Kapoor's daughter, Sonam Kapoor has already made a reputation of herself of being one to talk a lot about others unashamedly (remember that episode of Koffee with Karan and those catty comments with Deepika Padukone!), but it seems that the I Hate Luv Storys star is now setting her sights on none other than Ms Sheila Ki Jawani herself AKA Katrina Kaif!
At the prestigious Cannes Film Festival about the Mere Brother Ki Dulhan star, she says "You need a certain kind of commitment and a certain kind of shamelessness to do certain things," before further adding, "You get that shamelessness maybe with stardom or with confidence in your talent or with who you are as a person. I need to develop that before I do films like that over the top films. I need to learn how to do it as I was terrible in those movies."
The Saawariya actress would also like to give "…Katrina a bouquet of flowers." "I don't know how she does that [be shameless]." Such acidic comments like that won't get you many friends Sonam! Hopefully Katrina will see the funny slash nice side of it and forgive Sonam, but we're certainly not holding our breath!