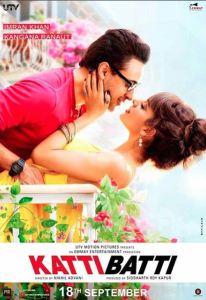 With Nikhil Advani's Katti Batti, expectations are high for Shankar, Ehsaan, and Loy to deliver another great soundtrack since the melodious gem of D-Day. It's a big release for Imran Khan, who's come back after his paternity leave and Kangana Ranaut, who's following up the critical acclaim of Queen. Since it's Advani's second film of the month, we can be assured that Katti Batti will be a better soundtrack than the formulaic songs of Hero. The songs on this album are immediately catchy whether it's the clubby Sarfira, or the cheeky Lip to Lip, there's a song for everyone to enjoy.
First off, we have Sarfira, which immediately has you wanting to groove the night away. The production mixes the typical electronic style with dub-step beats, but it's the chorus that is instantly addictive. Siddharth Mahadevan is fast becoming one of my favourite playback singers, because he can fit seamlessly into a club song as he can with rock songs. The lyrics are alright, but its that rap verse by Qaran Mehta that is laughably bad. Apart from this minor glitch, the song is one of the best of the album.
Sau Aasoon fits comfortably in SEL's indie rock zone, with the strong guitar hook, and eloquent lyrics. Shankar Mahadevan takes the vocals on this track, and it's refreshing to hear him sing a great track that allows him to bring out his emotions. Rasika Shekhar's chimes in intermittently during the chorus and for backup and her voice only adds to the soothing composition.
But the best track of the album has to be Lip to Lip Kissiyan, which brings the right amount of cheeky lyrics and flirtacious chemistry between singers Nikhil D'Souza and Ritu Pathak. If the stop-motion video didn't have you already hooked, then hearing the full song might bring a smile to your face. From lyrics like, "French kiss firangi hain, Desi kissi changi hain" to the Punjabi intonations by Pathak, it's an original and fun track that only gets better with every listen. The composition is devastatingly simple, with its array of guitars at the beginning, to the autotuned "Sajana" that comes in. Keep this one on repeat.
Ove Jaaniya is the other ballad of the album, which we heard a snippet of in the first trailer, and it definitely had me curious to hear more. The full song with Mohan Kanan is a gem to listen to, with its soft piano opening, and downbeat guitar melody. It's a track that's focused on the singer, and Kanan definitely delivers with his soulful and emotional voice. There's a Reprise Version, sung by Sayani Palit which showcases a new singer who has such a stunning voice. Patil shines on this track, which sounds like it'll be used in some heartbreak sequence, and she brings the pathos to the song.
Jaago Mohan Pyaare is more of a rock take on a classic bhajan, which can either turn you off or get you headbanging. Initially, Rasika Shekhar acts as the crowd hype-woman with her crowing "here we go" or "come on!" which sounds annoying when she repeats after nearly every verse. It's a shame to waste Siddharth Basrur excellent voice on a track like this, which has some very random and silly lyrics. Skip this one.
Katti Batti is a fun soundtrack from Shankar, Ehsaan, and Loy who deliver a refreshing and fun soundtrack that pushes them to try something different even with the commercial format of a romcom. Definitely one that will last long past its release.