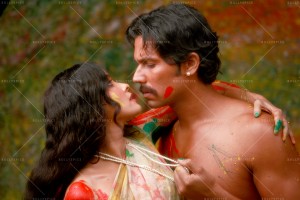 It was reported that Nandana Sen, lead actress of Rang Rasiya, would have to give NOC (no objection certificate) to the makers of the film before releasing the erotic content of the film. Rang Rasiya, directed by Ketan Mehta, has finally got a clearance from the Censor Board to release.
Nandana is amused by the reports, she says, "This is not true at all. Ketan and I were both bewildered to read about this fictitious NOC! From the start of our talks, it was as much Ketan's choice as mine that I should be comfortable with the content of the sensitive scenes. I took time to think it over and discuss it with my extremely supportive family, before making a decision. It would be deeply ironic to censor myself in a film that criticises censorship, wouldn't it? Incidentally, no one from the producer's, director's or distributor's side has ever been in touch with me about any publicity materials, let alone an NOC! So there was never a question of my blocking the film's creative freedom."
Nandana is ecstatic that the film will finally release, she further adds, "It feels like springtime after a long, frozen winter."
Nandana, who got married with John Makinson in 2013, feels marriage will never affect her movie role choices. "I'm very passionate about my work. My attitude as an artist remains exactly what it was when I accepted the role, which was not an easy decision. The moment for examining my feelings and fears came before I said yes, not after. Rang Rasiya is an important and exceptional film, and I am as committed to it and every scene in it now as I was then," adds Nandana.
For now, Nandana is enjoying being married to the love of her life. She says,"I absolutely love being married, but the boundaries in my life have always been imposed by myself, not by any legal institution or social norm. Before I was married and when I shot Rang Rasiya, I was in a long relationship where my self- imposed boundaries were no less strong. When I'm in love, emotional commitment sets the boundaries, not legal status nor social clichés."
Rang Rasiya, starring Randeep Hooda and Nandana Sen, and directed by Ketan Mehta, presented by Jayantilal Gada (pen) , Produced by Aanand Mehendroo & Deepa Sahi, Co-produced by Dhaval Jayantilal Gada, Kushal Kantilal Gada & Reshmaa Kadakia, is slated to release this Diwali.