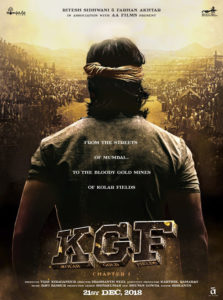 Thanks to the success of Bahubali 1 and 2, a new genre of Bollywood film has been brought to Hindi speaking audiences: the multi-language film. Strictly speaking it is not new for a Tamil, Telegu, Malayalam or Kannad film to be brought across, dubbed and re-presented for a Hindi audience and similar versions made for regional tongues as necessary. It is also not new for a film to be shot in multiple languages to be distributed between the south Indian industries. However, the concept of shooting a film for North and South audiences is certainly new for Bollywood. Ritesh Sidhwani, Farhan Akhtar and AA Films brings the latest in this new genre KGF: Chapter 1. This is all action, all power starring Kannad 'Rocking Star' Yash as Mumbai ka Don Rocky Bhai.
The advantage to shooting several languages at once is it allows for different song sequences to be done during the shooting schedule, meaning that it is possible to do an album for each language this will primarily show in. The Hindi album is in the hands of Tanishk Bagchi, who is developing quite a following from listeners who like remakes and high-octane music.
So, to the opener: Salaam Rocky Bhai is the title song. It's a power play with heavy drums, synth background and trumpets. Mohan Krishna and Santosh Venky provide a power chorus while Vijay Prakash takes care of the verses so quietly as if talking to each audience member separately. The drum player is given a chance to do something unusual as it owns the rhythm and takes central part in chorus. To complete this picture of darkness, there are dark undertones with synth and the power chorus for bridges. Altogether this makes for both a powerful rock song and a rising fear that the hero might be coming for the listener.
Neha Kakkar takes to the mic for Tanishk's next song, Gali Gali. A club item song remastered from the song of the same title from the 1989 film Tridev, the original was a party song and so is this one but, in the methodology of 2018, there is extra synth and a tabla to provide a new sound. This song has also been video released onto the internet and like most item songs it flirts between the sensual and some supple dance moves. Neha Kakkar however is not able to match either in this case as every time she attempts sensual, she just seems to run out of breath.
Kokh Ke Rath Mein is the next song and one for the tissue box. Ananya Bhat sings for the child crying for a lost mother. There isn't much in terms of a beat here but with a string quartet and piano for company, she delivers a tearful serenade to fully express the loss this child feels. A male voice gives the motif of this song with a gentle lullaby tune which frames this song together well and likely ties into a scene within the film.
Next is Ho Jaane Do Aar Paar, the action song. An angry destructive song, with a powerful chorus provided again by Mohan Krishna and Santosh Venky. The song itself is all you would expect from an action piece with strong drums, simple lyrics and singers who drop in behind the start. However, even for simple lyrics there is some clumsiness e.g. "Maut ka gola ban ke aao Sultan" which could mean a lot of things even given the likely context of full action. Ananya returns here for a brief interlude, this time to sing for possibly a lost love, and gets a soft backing laden with violins. It's a touching counterpoint to the physicality of the rest of the song but highlights that there is hope even within the anger.
Nearing the end of this album is Airaa Udupi with Sab Ke Sapnon Ki. This is again a sad song remembering the lost mother and features the motif of the male lullaby, this time in the child's voice. As a moment of sadness, this doesn't get the chance to get off the ground as it's very short possibly leading into a dramatic scene of some violence. The mother seems to have been the only one who showed belief in the child and the actor is using the song to hold onto that feeling.
To end the album, we have Sultan… the introduction song to the main character and possibly even Yash. "Yeh Hai Sultan" proclaims the main tag line in this otherwise standard title song. Drums, horns and singers already featured above with Mohan Krishna, Santhosh Venky and Ananya Bhat taking care of the vocals. Ananya seems to play the mother here telling the audience about how great her son is and will become and the pride is evident.
Action albums often are hard work for even the best music directors as they are basically loud and angry, swinging to heavily sad and emotional with a love song in between. This album certainly delivers all of these things however the love song is an item song and the emotion of love is more based around a mother's love rather than a relationship. Possibly because this is Chapter 1 or a multi-part story, maybe a more full album will come in later parts. Nevertheless, the songs given are good but Gali Gali and Sultan seem unnecessary from an album point of view (they probably make more sense in the context of the story).