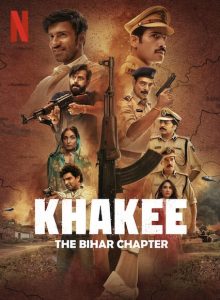 Khakee: The Bihar Chapter(Netflix, 8 Episodes)
Although plunging into the percolating plunderland of Bihar, Khakee: The Bihar Chapter hardly has any Bihari actors in the lead except Abhimanyu Singh who plays a honest frustrated cop whose attempts to arrest a notorious lower-caste criminal Chandan Mahto is forever foiled by powerful politicians.The more he tries, the more we feel his pain. If watching the criminal slip out of the hands of law is so painful, imagine what an insider in this fugitive's freedom must feel like.
Chandan Mahto, as played by Avinash Tiwari, is a notorious social climbers. Starting off as small-time goon, he is don Ravi Kishan's righthand man soon. As his socially upward climb on ladder crime , continues, we are introduced to other anti-socials who shoot on command without a hint of remorse.
Khakee succeeds in bringing out the menace and danger that rural Bihar encountered in the 1990s. But it revels in excesses. The shootouts are done on authentic locations, so that we get the feeling of being in an actual bloody battle between the law and the criminals.
However the second-half of the series with honest cop Amit Lodha(Karan Tacker) tracking down Chandan with the help of a parallel listening facility on the telephone, is repetitive and circumvent. I fail to see why the series has to be stretched into painfully prolonged episodes, unless the obligation to make a certain number of episodes is contractual.
The characters do not get an opportunity to grow in the stifling scenario. The actors are incredibly committed and that's half the bloodied battles won. Avinash Tiwari as Chandan Mahto stands out. He is at once the hero of the downtrodden and one of Bihar's most wanted criminals at a time when computers were just beginning to become popular. Ravi Kishan, Ashutosh Rana and Jatin Sarna are also in fuelled form. Other talented actors like Vinay Pathak and Anoop Soni are wasted.
It's a world in transition, trapped between the dark past and an aspirational future. Everyone wants to get somewhere using gun and goon power. It isn't a pretty world.