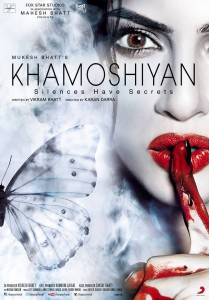 Khamoshiyan is the latest offering from Mahesh and Mukesh Bhatt, written by Vikram Bhatt and directed by Karan Darra. It stars Ali Faizal (Bobby Jasoos) and marks the big screen debut of Gurmeet Chaudhary (TV's Geet and Punar Vivah) and Sapna Pappi (TV's 24). Music has been composed by Ankit Tiwari, Jeet Gangulay, Navad Zafar and Bobby Imraan with lyrics by Sayeedd Quadri, Rashmi Singh and Abhendra Kumar Upadhyay. The album features the vocal talents of Arjit Singh, Palak Muchhal and Prakriti Kakkar.
The album commences with Tu Har Lamha, a staple Bhatt number of the soft rock variety, aptly composed by Bobby Imraan and well rendered by Arjit Singh. That being said, it is very formulistic in nature, entirely listenable, but ultimately nothing to write home about. The alternative, Subahan Allah is equally well arranged but Arjit is sorely missed as Anupum Amod does a less than impressive rendition of the track. The Remix of the track is an ear sore and an unremarkable album filler.
The title track has Arjit and Jeet Gangulay re-creating the magic with which they've successfully bowled over the audiences time and time again. However, their act is getting a bit old of late. It is still a well arranged romantic ballad with a more enthusiastic rendition from Arjit in comparison with 'Tu Har Lamhha'. The only drawback is Reshmi Singh's lyrics, which are arguably quite simplistic and lack the poetry that often serves as a back bone for ballads such as these. The unplugged version capitalises on Arjit's vocals and does away with most of the music. It may work as a situational number but in itself it is quite slow and uneventful.
Baatein Yeh Kabhie Na is another melodious offering from Jeet and Arjit. It starts off with some techno and one starts to look forward to a club/dance number but the track quickly transforms into a soft love song. Sayeed's lyrics lack the sophistication and finesse witnessed in 'Har Ek Lamha' and Arjit arguably sounds a little under the weather. The female version by Palak Muchchal is a lot more impressive. Despite the track's inherent ordinariness Palak's heartfelt rendition is refreshingly welcome.
Naved Zafar's Kya Khoya is a typical rock number but the man makes it worth your while. The musical arrangements are quite commendable, the pianos and violins giving a softer touch to an otherwise loud number. However, the weak vocals and ill-penned lyrics discount the track's likability some what.
Bheeg Loon is the signature sensual track expected from a Bhatt soundtrack and Ankit Tiwari does a fair job of composing it. Prakriti's rendition is brilliant for a novice but the lyrics leave much to be desired. Ankit gets behind the male version of the track and gives an emotionally charged rendition that arguably overshadows Prakriti's. Lyrics are strictly okay in that the erotic metaphors and similes start to become repetitive and ridiculous eventually. The remix of Prakriti's version is yet another bad album-filler.
In conclusion, Khamoshiyan is a decent fare with some infectiously hummable tunes but ultimately it tends to patronise audiences with its formulistic approach. While Arjit Singh's popularity is understandable, I would have loved to hear some newer and fresher vocals. Also, a diverse genre of tracks would have been a welcome change, such as a faster track or a quasi-classical number. All tracks were ultimately derivatives of each other and therefore hardly distinguishable.