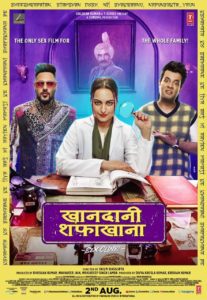 Sonakshi Sinha has made herself a place in Bollywood not being afraid to take on different stories that haven't been put on film before. Whether it be the all-action lead in Akira, a remake of a superhit Tamil film or Noor as a young journalist, she has not shied away from taking on difficult topics or unorthodox roles. Khandaani Shafakhana is yet another string to this bow as she takes on the role of a woman running a sexual health clinic, after the passing of her father. Labelled as "The only sex film for the whole family", this film looks to take on a tragic comedic stance about sex and sexuality. Hip-hop mogul Baadshah also comes full circle in this film, playing himself and taking on the role of music director to produce an album of fun and frolic.
Baadshah has made almost 100 videos and many more songs on his way to become the top of the Desi Hip-Hop scene. So, no surprises that the album opens with Koka starring Baadshah, Jasbir Jassi and Dhvani Bhanushali on the mic. On screen this is Baadshah and Sonakshi doing what they are both well known for doing: dancing and rapping. A club song with mostly Punjabi lyrics also not in anyway a surprise for anyone involved so it needs something to stand out. All that it really delivers in the end though is the learning that Koka is the Punjabi for nose ring.
Sheher Ki Ladki is that 100th music video from Baadshah. The video itself features Diana Penty with Gabru Ghataak (Baadshah) providing a classy tune with a slightly old style about it. The reason for the old feeling is because it's a straight remake of the song of the same name from Rakshak starring Suniel Shetty and Raveena Tandon. While Baadshah changes things up in the middle with his trademark rap break, Tulsi Kumar, Abhijeet and Chandra Dixit are all used to good effect to remind those who remember of the original song. To top it off Suniel and Raveena make a cameo appearance for the last verse arriving on very cool looking black motorbikes.
From typical Baadshah to typical Bollywood, the next song Dil Jaaniye by Payal Dev and Jubin Nautiyal is the standard introduction/love song. Soft, smooth rhythms back up slow motion visuals with the singers using silken voices to tell a story of two already in love without ever saying anything. This is not any different to so many others that have released this year, but does seem to have a slightly sad ending which in the clip is their actual final meeting.
For the next song, Baadshah is back with something more traditional in Saans To Le Le. A short song that starts off like an old time bhangra (pre-Daler) but soon gets modernised with some Baadshah magic. The recently released video features Baadshah on screens along the travel route while Sonakshi listens to him while on her way to work and this is certainly a fun take on things. This song will likely make a lot of "wake up" playlists as it certainly will get listeners up in a good mood.
Back to the lighter stuff, Udd Jaa by Tochi Raina is a classical feel song. More in the style of Pakistani music, it features a sarod and tabla backing up a solitary lead singer. Its not clear whether this is a happy or sad song, or even somewhere in between but it certainly serves to both be content with itself and deliver a message of freedom gently. Because its so far off from everything above, this is a nice change of pace song, so even if the lyrics don't mean anything to audiences or listeners, it still finds a way into the heart.
Generally, Bollywood albums will end with a rousing title song in the album to bring home the power of the feelings that hopefully the rest of the album has roused in the listener. Bheege Mann by Altamash Faridi is not one of these. A classic qawwali, with drum background and Spanish style acoustic guitar to modernise it to a jazzy sound, this is a sad song. Not sad enough for tissues however so perfect for a time of loss within the story, but leaving it to the on-screen presence to actually create a depth of emotion.
As mentioned at the start Khandaani Shafakhana aims to be a comedy with that perfect Bollywood touch of tragedy that always seems to bring everyone together at the end whatever earlier circumstances had kept them apart. Nevertheless, as always it must be asked what is the purpose of this album. There is no real villain here (and thus no real hero), so it's no surprise none of the songs in this album are super powered. If the purpose is comedy then the first 4 songs deliver on that. If the purpose was to promote Gabru Ghataak, then again, the first 4 songs deliver on that. So, the question then is what are the other 2 songs doing?