It's a tough job to be a reviewer and do what we do amongst the current trend of masala movies.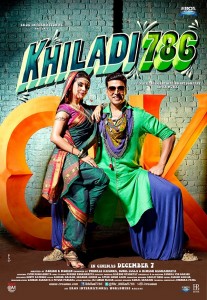 Movies designed to defy rules of cinema and entertain to an utmost ridiculous level. Time to throw out the logic and judge the film based solely on its entertainment value. So, is the return of the Khiladi franchise worth you hard earned money? Does it deliver the escapist kind of ridiculous masala cinema to warrant 2hours and 30 minutes from your busy schedule? Read on to find out!
Himesh Reshammiya writes for debutant Ashish R Mohan, a protégé of Rohit Shetty, and has churned out a masala comedy/action entertainer. Bahattar Singh (Akshay Kumar) is a hired fake cop for Punjab Police who despite being his dashing self is an absolute non-eligible bachelor courtesy of his profession. Indu Tendular (Asin) is a gutsy Marathi girl, sister to one of the most feared dons of Mumbai, Tatya Tukaram Tendulakar (Mithun Chakraborty). Unlike Bahattar it's her brother's profession that renders her as not exactly the most desirable wife and daughter-in-law in town. Aspiring matchmaker Manuskh (Himesh Reshammiya) by fate's twists and turns ends up being assigned the task to find Tatya's sister a nice suitable boy. He takes up the challenge as a chance to finally prove his matchmaking talents to his father. However, both families are exactly what the other does not want, as they're hardly the upstanding citizens they want for in-laws. How a grand façade is put up to execute this wedding is what Khiladi 786 is all about.
The biggest surprise in Khiladi 786 is not the performance or a twist in the story but rather the fact that Himesh wrote such a wholesome entertainer. No doubt its one cleverly crafted script that has the potential to reel the masses in quite effortlessly. The movie's general premise of adopting fake identities to win a bride/groom may remind you of Salman Khan and Asin starrer Ready however Khiladi 786 has enough of its own unique elements to not be lost in the Aziz Bazmee blockbuster's shadows.
Ashish delivers a film that entertains and keeps you engaged for the most part however one cannot deny that some portions definitely irk. The multicultural element to the Singh family for one is a comedy portion you simply don't find amusing or humorous in any way. In fact it comes across as rather offensive to those cultures. There also seems to be too many characters thus forcing the writer to give them screen-time. This means that portions definitely end up looking dragged. Surely the end revelation of the family's identity could have done without having to write Mili-Bhagat's characters in. Johnny Lever is unfortunately one of those additions.
Very little can be said about Akshay Kumar because a role like this is something he could possibly do in his sleep yet you see him giving it his 200% energy, which is oh so commendable. You particularly notice this in songs, which are something he could have slacked off on yet he's there completely with oodles of energy. Asin on the other hand is the heroine you want to whistle for when she enters! Her character is a kick-ass gutsy Marathi mulgi and she pulls it off effortlessly. She may not be doing your serious female character orientated films but sure has a knack for selecting masala scripts that definitely have some scope for her. The film has a killer of a supporting cast but since the jokes around the Singh family come across offensive you don't tend to appreciate Raj Babbar and gang as much. Himesh and Mithun, however, most definitely shine. Hope Himesh keeps it real from hear onwards and opts for supporting roles rather than attempting to carry a whole film on his shoulders because he really was quite entertaining in this film.
Songs of Khiladi 786 are expertly edited into the screenplay and whilst they don't appear onscreen for the whole duration of the recorded track, you're glad for it! The running time hardly needed to be any longer and you enjoy the songs plenty for the short span they appear onscreen for.
A special shout out has to go to art direction and cinematography. The film is colors galore! From the Singh's iconic truck to Akshay Kumar's kurtas and shoes! Indian cinema is all too often defined as an explosion of colors and for Khiladi 786 that is every bit true.
Ashish R Mohan makes a debut that definitely doesn't feel like a debut. You most certainly see the Rohit Shetty's grooming onscreen, especially since the obsession with cars remains with the protégé. What works for the film is that it delivers what the promos promised. It was always marketed to be an out and out over the top typical Bollywood masala entertainer and that is what it is to its very core. If masala is what you're looking for definitely book a ticket for the return of Khiladi!