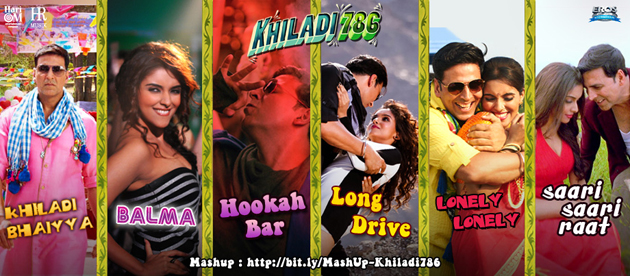 The music of Khiladi 786 has got the whole nation grooving to the cheery and upbeat tracks. Keeping in mind the growing popularity of the songs from the film, the makers of the film have released a fantastic mashup of the all the tracks.
The 'Khiladi 786' Mashup has all the songs mixed together with captivating beats that give a perfect background to the extremely catchy lyrics. The highlight of the mashup is the rap by Honey Singh from the 'Lonely Song'. Mashup is definitely going to be played in all the popular hangouts and pubs.
The music of the film has already topped the chartbusters and the Mashup is further going to add to the popularity of the Khiladi 786 tracks. Himesh Reshammiyahas composed the music of the Khiladi 786. Himesh has undoubtedly put together a brilliant album and done complete justice to the return of Khiladi series after a decade.