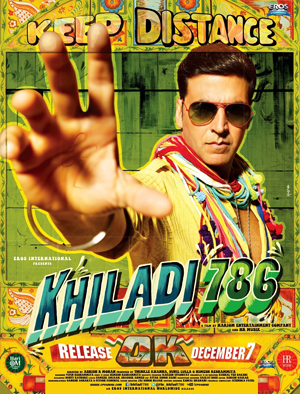 The 90s masala films are back in vogue, and who better to represent the genre than the Khiladi himself, Akshay Kumar, as he revives his iconic character again. After a 12 year gap since Khiladi 420 (in 2000) Akshay is back to his action avatar in Khiladi 786. This time, Kumar joins Himesh Reshammiya who makes his big mainstream debut, and doubles as script-writer and music director. With all this pressure, Himesh has created a very average album of 14 songs, that will likely become chartbusters regardless of their lasting appeal. The albums is a bit of a letdown considering Reshammiya was on a roll with his hit albums from Son Of Sardaar, and Bol Bachchan. It's not overtly terrible, but it's just not the original and creative Himesh, who can great albums like Radio and Damadamm.
We start off with Lonely, which is oddly addictive even when it seems to sample the Mr. Saxobeat hook, and features Yo Yo Honey Singh doing an inventive rap to open the track. The song straddles both a hypnotic dance tune and a sad song that laments the loneliness of the protagonist. Himesh also sounds like he's having tons of fun spoofing his own nasally voice, with his "Oooww Bawariya", which makes this one a fun ride. He also borrows from "Main Jahaan Rahoon" with the "Teri yaad yaad mein" in an interesting way to keep the sadness in this dance track. Though Honey Singh and Hamsika Iyer feature in the track, they are completely overshadowed by Himesh's energy. Keep this on repeat. As with a Himesh album, there are remixes galore, and this one is nothing special as it just speeds up the tempo and makes it more of a trance track. With this one, the sad verses by Himesh are emphasized more. Skip this one and stick to the original.
Much has been written about Balma, the tribute to R.D. Burman, and it doesn't disappoint. It features Burman's signature bongo beats and his 'hah hah' punctuating the beats. Yet the song takes some elements from LMFAO's "Sexy and I Know It" which set alongside all those Burman beats, makes this a very danceable and energetic track. Shreya Ghosal goes into seductive mode with this one, and is lovely here and Shriram complements her well during the chorus. While it isn't in the Chikni Chameli or item number big leagues, it is a sensual and addictive track. The remix is simply boring as it takes away all the fun of the composition and just make it an average club track. Again, the original is far better.
One of the interesting tracks is Long Drive, which initially hooks you in with its slow guitar riff in the beginning, and gives you the sense that it might be a slow romantic number. However, it shifts gears quickly and becomes a rock-hip hop fusion, and laces the track with the harmonium beats. It immediately wins you over and who better than Mika Singh to take the helm. Yet this time round, he sounds so much more affecting and soft, which makes me want to more tracks where he leaves behind all that swagger and just sings. Finally, we have a Bhangra-remix which complements the original, while adding more tumbhi and dhol beats to make this one a sure chartbuster. The composition is very good and makes sure not to lose the essence of the original.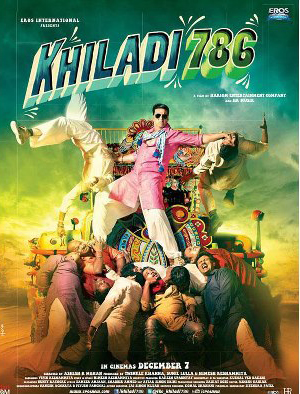 While I do love Himesh singing on romantic tracks, he just sounds a tad out of place on Sari Sari Raat. He has sung for Akshay Kumar before, but this one sounds a bit weird, as Himesh doesn't seem to find the right balance between doing his usual nasal twang or taking the lighter notes and not over-enunciating each verse. What we can enjoy about the track is the composition, which is dreamy and minimalist. Shabbir Ahmed's lyrics are eloquent and poetic, but end up getting a bit lost with Himesh's variant tones. Savour the music only.
Next up is the terrible Hookah Bar, which is just completely nonsensical with lyrics like "Tere pyar ka nasha, kabhi aar kabhi paar, tera pyar pyar pyar, hookah bar", is perhaps one of the worst stupidest compositions in a while. Honestly, a hookah bar? What was Himesh thinking?! The lyrics could have been overlooked if the composition was a bit better, but the club beats and constant interludes just sound monotonous. The Band of Power boys, Aman Trikha, Himesh Reshammiya, and Vineet Singh try to do their best with what they have got. The remix mildly improves the song, and perhaps that's the one to choose if you want to listen.
Perhaps Himesh got a memo to recreate the same rustic and earthy dynamic that worked in "Hud Hud Dabangg", yet he may have overdone the comparison with the title track, Khiladi 786. The song is too mired by that Dabangg hangover, and although Himesh tries to make it an energetic and macho track, even the chorus feels the same. The singers Vineet Singh, Aman Trikha, Yashraj Kapil, Alam Gir Khan & Rajdeep Chatterjee all sound good with the patriotic and descriptive verses they've got. Yet the song just suffers due to its composition and similarities to that iconic track. The remix is just unnecessary; however, it sounds just rubbish and boring. Skip both.
The last track is the retro, Tu Hoor Pari, which is opened beautifully by Harshdeep Kaur who can add that right dose of class and verve to save many a middling track. Javed Ali starts off the track with an interesting warbling tone, which reminds you of the proper Punjabi folksy sound. The rest of the track is a fusion between a qawalli and a more authentically Punjabi folk number. When Shreya Ghosal and Chandrakala Singh enter the track, they seem to add a more romantic chemistry to the song. While the song seems to juggle many different tones and interludes, it ends up as one of the better tracks on the album, thankfully without a remix!
Khiladi 786 is strictly an average album with a smattering of addictive tracks that may just live on after the film leaves cinemas, but it's not the best work by Himesh Reshammiya this year. He has proved that he can do original and creative work that trumps the masala trappings of a film like this.