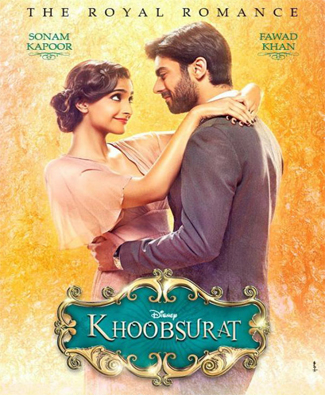 Khoobsurat is Disney's latest royal romantic comedy in collaboration with Anil Kapoor Films Co and UTV Motion Pictures. It is a remake of yesteryear Hrishikesh Mukharjee hit of the same name and stars Sonam Kapoor, Kiron Kher and Ratna Pathak in pivotal roles. It also marks the Bollywood debut of Pakistani heavyweight Fawad Khan.
Khoobsurat features music by Sneh Khalwalkar (Gangs of Wasseypur), Badhshah and Armaan Malik with vocals from Sunidhi Chauhan amongst others.
The album begins with Engine Ki Seeti, a Rajastani folksy fusion dance number by Sunidhi Chauhan and Resmi Sateesh. It is a catchy number and Ikram Rajasthani's quirky lyrics, paired with Resmi and Sunidhi's enthusiastic renditions, take you on a wacky ride (pun intended). Khanwalker commands the brilliant amalgamation of musical arrangements.
Badshah's Abhi To Party Shuru Huyee Hai shares a lot of similarities with former collaboration partner Yo Yo Honey Singh. That being said, it is still an infectiously catchy number. The signature hook is arguably repeated one time too many, but the short duration of the track stops one from dwelling on its cons for too long.
Baal Khade is probably too quirky for its own good. It may become more appealing as part of the film's narrative. Sunidhi does a fantastic rendition nonetheless.
Preet's excellent musical arrangements is only surpassed by the Rajasthan accented lyrics and Jasleen Kaur Royal's child-like innocent rendition which emphasizes the melancholy emotions.
Maa Ka Phone cranks up the quirk and definitely makes one smile, if not laugh out loud, at Amitabhi Verma and Khanwalker's relatable lyrics. However, the track ultimately fails due to repeating the phrase 'Maa Ka Phone' numerous times. After what feels like the 50th 'Maa Ka Phone Aaya' the track easily demotes from oddly adorable to ear grating.
Armaan Malik and Sona Mohapatra's Naina was a last minute addition to the soundtrack, created in under 24 hours. Amaal Malik's melodious and simplistic number is a welcome reprieve from Khanwalker's experimental compositions, which takes some warming to. Sona, obviously, owns the track with a pitch perfect rendition. Kumaar's folksy lyrics against Malik's contemporary composition create a wonderful dynamic. In a word, impressive.
Khoobsurat definitely surprises in deviating from the more obvious compositions expected from a romantic comedy. Zany as Khanwalkar's compositions are, it can be appreciated that they mirror the film's lead, Milli's, zany personality. That being said, it is arguably a little too unconventional and as such, its likeability is compromised somewhat. Malik's Naina softens the blow though and to an extent (if you are not bored of Yo Yo Honey derivatives) Abhi To Party Shuru Huyee Hai.