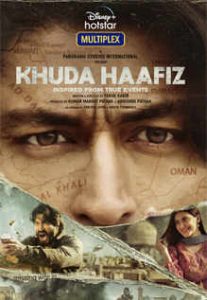 Khuda Hafiz (Disney-Hotstar)
Starring Vidyut Jammwal, Shivaleeka Oberoi, Annu Kapoor, Aahana Kumra and Shiv Panditt
Directed by Faruk Kabir
How much worse can the OTT-sponsored feature-film premieres get? If this is the third-degree torture we deserve during lockdown than God save civilization. Cinema, of course, is already doomed because everything and anything is now served up as a feature film. Khuda Hafiz has the seeds of a solid thriller planted at its epicenter: a husband enters a bloodied Muslim country in search of his missing wife.
In this case the country is a fictional device named Noman echoing Oman and No Man's land, it is just about the most inventive factor you will encounter in this action-packed nonsense. Well intended, no doubt. But crafted with all the delicacy of a sledgehammer falling on a nail.
Very often, the background score is so loud it drowns out the dialogues. Not that they are worth hearing. Or even coherent. Partly, the characters speak an Arabic-Islamic language without subtitles. The subtitles come on suddenly for the English dialogues and disappear just as quickly. Everything looks hurried, haphazard, uneven and tacky.
I hear the post-production of this bhendi bazaar version of Costa-Gavras' Missing was done during the lockdown. Filmmakers, do yourself a favour: don't! No need to somehow complete a film. If we can wait, so can you.
Not that Khuda Hafiz would have come out any better even if more care had been taken over the technical details. The powerful plot premise is squandered away in inane action sequences deasigned to highlight the male lead's stunt skills. Sadly the action scenes are so badly choreographed, you feel the director took the film's title too seriously.
The narrative seems to move on its volition with no support from the cast or crew. The brilliant Annu Kapoor shows up as that token do-gooder in a hostile country (remember Nawazuddin Siddiqui in Bajrangi Bhaijaan) who becomes the distressed husband's trusted lieutenant. Kapoor, like other talented members of the cast like Yash Pandit and Ahana Kumra are made to struggle with a weird indecipherable accent which sounds like the late and great actor Jayant's Pathani accent in Do Raaste colliding with Jayant's son Amjad Khan's Gabbar Singh in Sholay.
The images of young girls and women chained to the sex trade are done with all the finesse of a sex shop hosting a discount sale. The flesh traders and their victims look like out of job hustlers auditioning for Bigg Boss.
So does our distressed dulha find missing dulhan at the end? If you can bear with this tortuous journey you will find out after 2 ½ hours of a plodding pursuit of a pedestrian thriller that would have us believe that newly married wives can disappear from a foreign country without a trace. Are there ways of making sub-standard indigenous films disappear? Khuda Hafiz, indeed. And good riddance.