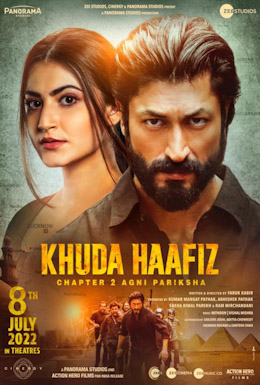 Khuda Haafiz Chapter 2: Agni Pariksha
Starring Vidyut Jammwal and Shivaleeka Oberoi
Written & Directed by Faruk Kabir
Reading some of the arrogantly dismissive reviews of this slick spin on the vendetta genre, I was convinced, more than ever, that nowadays the selfcrowned critics of filmistan review the directors and actors , and not the end-product.
Faruk Kabir's Khuda Haafiz in 2020 was an extremely mundane fare, at best a timepasser during a desperate lockdown evening.
The second chapter in the Khuda Haafiz series is a far more laudable endeavour. It is a tautly told tightly edited(Sandeep Francis) thriller about child rape. Writer-director Faruk Kabir grinds his boots into the vile act with a persuasive force. The action is never gratuitous, but extremely wrathful and brutal.
There is a moment when the protagonist Sameer(Jammwal) gets to know the 12-13 year old boy standing sobbing in from of him had raped his 5-year old daughter. Sameer kills him instantaneously. This is not a spoiler. It is justice.
And we applaud. It's time to stop believe in the Gandhian philosophy. An eye for an eye and pain for pain….Faruk Kabir's film is a timely ireful warning of what the criminally powerful can do if they are allowed to get away with murder. Sheeba Chaddha as the vile politician Thakurji, Lucknow's lesbian version of a gangster, gives her character a chilling menacing edge.
I especially liked the cannily crafted confrontational sequence between Chaddha and Shivaleeka Oberoi where the grieving mother replies to every veiled threat from the boorish beghum from hell, with an insulting insouciance.
Chaddha apart, the frames are filled with powerful actors. Watch out for Rajesh Tailang as a conscientious television journalist who knows when to stop recording a tragedy as news report, Divyendu Bhattacharya as a savage butcher and Thakurji's dirty right-hand, and Ishtiyak Khan as the juvenile rapist's timorous driver…they bring an unexpected heft to the sanguinary saga .
Khuda Haafiz Chapter 2 might be guilty of some major shortcomings. The climax in Cairo seems to be insinuated not too tactfully into the screenplay to give the film a global look. But it is certainly not an exploitative gratuitous look at the rape-and-revenge formula. The pace never slackens. And when Jamwal gets into the fighter's mode, watch out!