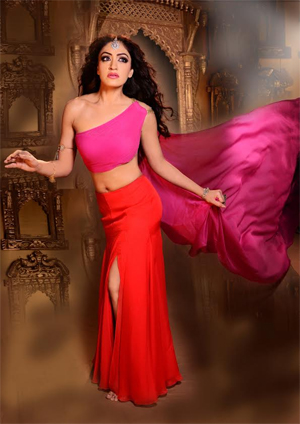 Khushali Kumar, who will soon be seen making her screen debut in a special music video 'Mainu Ishq Da Lagya Rog', spent close to four months creating visuals and many moods of true love which one goes through, unstoppable happiness, longing and sadness. As an actress Khushali worked hard to perfect her moves in front of the camera and bring out these different emotions on screen as well.
Sources told us that in one of the most challenging scenes from the video where while shooting she was supposed to sit on hand carved Jharokha (a palace window) longing for her love, she got so engrossed by the emotional scene she couldn't come out of the character and kept weeping despite the director kept calling cut, she just couldn't respond. Khushali admits that the song has an instant connect and is like an emotional trigger and Khushali says "I hope the audience connect with the song and feel the beautiful expression of love as we all felt it while shooting it".
The song release by T-Series is sung by Tulsi Kumar and recreated by Arko Pravo Mukherjee.