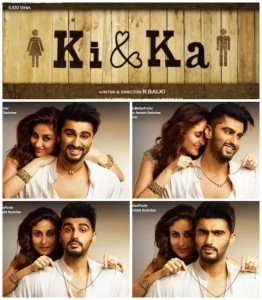 R. Balki's movies aren't usually known for their music, as Cheeni Kum and Paa had one gem of a song, but Ki & Ka is the exception because it's quite a funky album. The trailers gave us a snippet of 'High Heels' and 'Most Wanted Munda' that completely suited the quirky romance which gives a new spin on gender dynamics. Instead, he's recruited the Meet Bros, Yo Yo Honey Singh, Mithoon, and Ilayaraja for this patchy but fun album.
If you're thinking you've heard High Heels before, you probably have with Jaz Dhami and Yo Yo Honey Singh's original song that came out in 2012. I actually prefer this version because the duo have removed the cheesy electro beats of the original hook, and have used Aditi Singh Sharma. Sharma kills her verses and delivers them with attitude, especially with the sassy lines "To meri high heels se/Maar tu khaa lega." As usual, Yo Yo Honey Singh's raps are kept to a minimum like the original, and are still corny.
My favourite song is up next, Ji Huzoori, which is a lovely ballad that grows on you even with the repetition. It's Mithoon and Deepali who really sell this track with that catchy chorus that makes you sing along. The lyrics by Sayeed Qadri are eloquent and simple, and Deepali's verses are particularly touching. The orchestration is quite understated with tablas during throughout but the shehnaii solo is a nice touch.
Most Wanted Munda has an opening hook that immediately wins you over and gets you dancing. The lyrics which extol Arjun Kapoor's virtues from being the "Arey re iski toh fan hain/Yeh saari auntiyaan" and the Meet Bros sing these zingers with cheekiness. The composition is a treat, and there's a great moment where the tempo slows down to match the beats of the train. However, this is a track where I'd call on Yo Yo Honey Singh instead of Earl Edgar who delivers these cheesy lines, "He doesn't need to make any money shoney/But he feels on top like a honey bunny!" Other than lines that make you unintentionally laugh, this is a solid track that's worth playing on repeat. The song is reworked in Kabir Most Wanted Munda, which adds more Punjabi beats to be suited for a wedding song. But this version also features Arjun taking on the rapping, which he utterly sucks at thankfully that's a really short interlude!
Ilayaraja tackles Foolishq, a minimalist love song that's actually quite bland and doesn't feel up to scratch. With chunky guitar riffs and lilting flute melody throughout, the orchestration works but it ends rather quickly and anticlimactically. Shreya Ghosal and Armaan Mallik have a cool chemistry together but it doesn't save the track.
Pump It (The Workout Song) is only worth listening to for Yash Navrekar who has a great youthful voice and enough attitude to pull off the silly lyrics. Other than its quirky orchestration that integrates banjos and electro beats, this song is mostly forgettable.

Ki & Ka is a fun album for an R. Balki film, but with many composers on the album there are only a few songs that exceed the expectations.