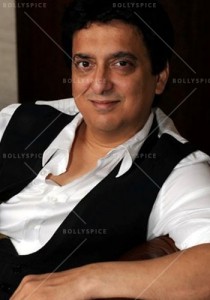 The much anticipated Salman Khan starrer Kick is releasing on Friday and is also this year's big Eid release. The film also marks the directing debut of producer Sajid Nadiadwala, who has produced films such as the Housefull series, Highway and 2 States. Check out what Sajid had to say during a special Q&A where he spoke about Kick and what the experience was like working as a director for the first time.
Speaking about what motivated him to sit on the director's chair with Kick, Sajid said, "I think it was fate really; it happened so fast! It's funny how things turn out in life. I was in a meeting with Salman, narrating the script to him, when all of a sudden he said, 'Why don't you direct it!' I didn't even have time to consider the offer, before I had even nodded he was jumping and hugging me and shouted across the room 'Grandson is turning director.'  Before I even had time to share the news he had already written in his planner that a new director was coming. It's been a wonderful experience and I felt right at home doing it."
When asked if his work as a producer supported his directing debut, Sajid responded, "Absolutely! As a producer I have worked with extremely talented directors and have gained knowledge and experience from working side by side with them. One becomes seasoned after so many films."
Speaking about what was his most memorable moment whilst directing Kick, Sajid explained, "My first day on the set, definitely. I was calm and ready to don my director's hat. I felt completely at ease on set and was lucky to have a very professional foreign crew. I decided to start with an action scene, as I feel most comfortable with it. Everything went down smoothly, and as we were wrapping up I thought to myself I am a director now!"
Sajid also described what makes the film so unique. "I had a clear and unique vision for Kick and thanks to my amazing team it has come together far beyond my expectations. The script is great, the high-octane stunts are gripping and the locations where we shot are stunning. Salman and I were set on creating something new. It's very different to his earlier films."
Asked if Salman was supportive towards him during the making of this film, Sajid replied, "Absolutely. It was great fun discussing our ideas, brainstorming and working out the scenes together. He's been very helpful and completely supportive of my vision. All in all, it has been a great experience."
Finally, Sajid spoke about his excitement regarding the film's release and hopes that it will perform well at the box office. "I am very excited. It has been a wonderful ride and now we have to enjoy the result of all our hard work. The trailer received five million views in 59 hours, so I expect great things for this film."
Kick releases in cinemas this Friday! Check out the trailer if you still need to be convinced to watch it at a cinema near you!
http://www.youtube.com/watch?v=u-j1nx_HY5o