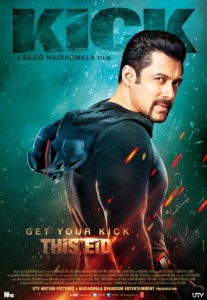 Kick is the latest Eid offering from Salman Khan after Wanted, Dabangg, Bodyguard and Ek Tha Tiger, all of which have been top grossers at the box office. Kick is a remake of the Telugu film of the same name making this Salman's 5th remake of a South Indian film in the past decade. Kick also sees the re-teaming of Salman with Nadiadwala and Grandson Entertainment, their last collaboration being Jaan-E-Mann.
Kick also stars Jacqueline Fernandez (Murder 2 and Race 2), Randeep Hooda (Highway and Jism 2) and Nawazuddin Siddiqui (Gangs of Wasseypur and Lunchbox) in pivotal roles. It features compositions by Meet Bros Anjan ('Baby Doll' – Ragini MMS 2), Himesh Reshammiya (Bodyguard) and Yo Yo Honey Singh ('Party All Night' – Boss) with vocals from Shreya Ghoshal ('Teri Meri Prem Kahani' – Bodyguard), Mohd. Irfan ('Phir Mohabbat' – Murder 2), Mika Singh ('Subah Hone Na De' – Desi Boyz) and Salman Khan. Lyrics have been penned by Mayur Puri, Honey Singh, Kumaar, Shabbir Ahmed and Jasmine Sandlas.
Jumme Ki Raat
If you have not already caught the infectious shenai (or what sounds like it) hook of 'Jumme Ki Raat', check for a pulse, because that is the only way you can escape this catchy tune, if you are a member of the walking dead. It is a typical Himesh number and for that matter, a typical Salman Khan number, so little props for innovation but there is no denying how much fun this track is. It has upbeat desi underpinnings courtesy of dhols, essentially a powerful improvement on Bodyguard's title track. After Himesh's catchy arrangements, Mika Singh owns this track with his stylishly lazy yet energetic vocals. Palak Muchhal's brief interlude is impressive and she encapsulates the superior attitude of the lyrics. Mayur Puri's lyrics are effective even if the opening line of 'jumme ki raat hai, chumme ki baat hai' is not an ingenious line to come up with.
Salman takes over the mike from Mika in the second version of the track. He gets an A for effort and energy but unfortunately Mika Singh is a tough act to follow and the superstar falters with respect to style and finesse. His vocals come off as being strained in some portions which is not easy on the ears. Luckily Himesh's catchy hooks are still intact.
This must be a first, but the remixes of both versions are equally good if not better. The tempo and the energy have been raised exponentially and the additional musical arrangements give the track a vibrant Marathi vibe to it. Also, the remix masks the inadequacies of Salman's version of the track and it comes off as being more likeable than the original.
In short, 'Jumme Ki Raat' is a winner!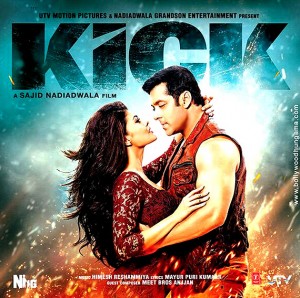 Hangover
What he lacks in 'Jumme Ki Raat', Salman makes up for in 'Hangover' in spades! It is a melodiously trendy duet with Shreya Ghoshal composed by Meet Bros Anjan. It features a brilliant assortment of instruments, the violin and guitar interludes being particularly impressive. The lyrics are equally good and Shreya and Salman complement each other well.
The MBA Swag version of the track by DJ Sumit Sethi substitutes Prince for Salman who does an equally fantastic job if not better. The track is a decent alternative to the original in that the pace is faster and more akin to a club mix. However, vocals aside, the song's appeal also lies in the nuances of the original composition, which is lost in this version.
The other remixed version of track suffers from a similar fate in that it is a decent alternative to the original but lacking in the romance Meet Bros Anjan created between the vocals and musical arrangements.
Tu Hi Tu    
'Tu Hi Tu' commences with a brilliant piano piece followed by violins and flows into a background of guitars as Mohd. Irfan starts crooning this well-penned track. It is beautiful composition by Himesh, one of his best ones of late and I daresay better than 'Teri Meri' from Bodyguard.
The reprise, rendered by Neeti Mohan, is just as beautiful and almost makes you hanker for a duet between her and Irfan.
Salman has rendered the second version of the track but unfortunately whatever made him excel in Hangover, possibly good coaching on Meet Bros Anjan's part, is missing in action. While the emotional quotient is definitely there, the absence of the technical is starkly apparent.
Unfortunately, it seems that remixes' good track record ended with 'Hangover' because the three remixes of 'Tu Hi Tu' are quite dismal. It is a quietly powerful number and the stoic beauty of it is butchered by the remixes.
Yaar Na Miley
Yo Yo Honey Singh's 'Yaar Na Miley' featuring Jasmine is a decent enough track but pales in comparison to Singh's previous collaborations with Bollywood as well as with rest of this album. Word is that Nargis Fakri will be performing the number with Salman so here's hoping it becomes a lot more appealing once the promos hit the airwaves.
In summary, Kick is a welcome departure from previous Salman Khan soundtracks, all of which tended to be poor derivatives of each other, with Ek Tha Tiger being the exception.  The album exudes elegance as well as mass appeal. While Salman may not be winning any Grammies soon, he has to be commended for lending his vocals so extensively to this album, something his peers should maybe take heed off. That being said, there is a vast difference in Salman's rendition of 'Hangover' and 'Tu Hi Tu', and 'Jumme Ki Raat', indicating that Himesh should have paid a little more attention to vocal technicalities. Otherwise, it is a stellar soundtrack with all the makings of a chartbuster.