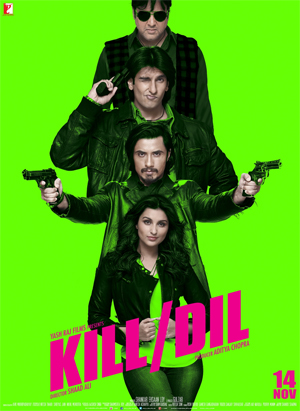 Films like Kill Dil make you wonder how they were made in the first place. How could a production house like Yashraj agree to back a film with such a hackneyed plot and poor script? How could talented actors like Govinda, Parineeti Chopra, Ranveer Singh and Ali Zafar agree to be a part of this pathetic attempt at film making? Why in the world did Gulzar, THE Gulzar, choose this film to lend his voice to?
Kill Dil gives us the age old plot of two orphans who grow up in the world of crime and then want out when one of them falls in love. We know how that works out, don't we? That bit about crime being a one-way street but love triumphing over all? Director Shaad Ali probably thought that giving this old-as-the-hills plot a pulpy look would make it look all new and different. Only he ends up creating characters so unrealistic that the viewer finds it impossible to connect with them.
There have been many films in the past where good treatment was able to save a non-existent story. Kill Dil is not one of them. With a pathetic screenplay, under-written characters and bad music, Shaad Ali manages the unenviable feat of making even a powerhouse performer like Govinda look dull. Now that, Mr. Ali, is unforgivable.
The other actors fare no better. Ranveer and Parineeti try hard but are let down by the bad writing. Ali Zafar is terribly miscast. While the lead pair displays zero chemistry, Ranveer and Ali manage a couple of interesting boy-bonding scenes between them in the first half. However, the film completely nosedives in the second half when Ranveer decides to reform himself. Then it is just a long wait to the end, very long for a film with a runtime of only two hours.
This one is a complete waste of time. Avoid.