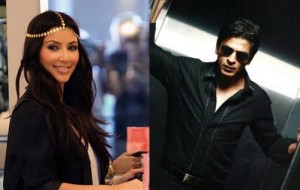 If rumours are to be believed then American reality star Kim Kardashian is all set to make her Bollywood debut opposite superstar Shahrukh Khan.
Kim Kardashian who is best known for her reality TV show Keeping Up With The Kardashians is currently travelling in Dubai for the opening of her Millions of Milkshakes outlet.
Sheeraz Hasan, who has been Kim's guide throughout her Dubai travels, has introduced Kim to the world of Bollywood.
Founder and CEO of Hollywood.tv Sheeraz Hasan told the media, I asked Kim if she would ever be interested to star in a Bollywood movie and she hasn't said no." Sheeraz has given a selection of 'Shahrukh Khan's best films' to Kim for her to watch over the weekend and if all goes well the two will 'work together.'
Sheeraz Hasan also revealed his plans to the media to set up a conference call next week between Kim and Shahrukh Khan.
Kim Kardashian would not be the first reality star to consider a Bollywood film role, former best friend Paris Hilton recently made a trip to India and revealed she too would consider acting in a Bollywood film.