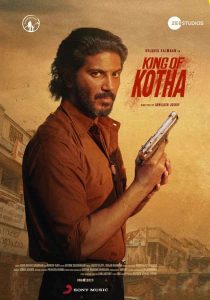 King Of Kotha (Hindi, Opening On 1 September)
Starring Dulquer Salmaan, Shabeer Kallarakkal, Prasanna, Gokul Suresh, Aishwarya Lekshmi, Nyla Usha, Chemban Vinod Jose, Shammi Thilakan, Saran, Shanthi Krishna Anikha Surendran
Directed by Abhilash Joshiy
Crafted with the sharp edge of a harpoon, King Of Kotha, is a brilliant bloodbath. Bestial and unsparing, it goes through several eras and auras of tansformations of skullduggery with transfixing passion.
Although it is the story of two goons who love to hate each other over a period time (vintage cars, nostalgic songs, detailed sets etc), it is Dulquer Salmaan's Raju that holds the plot's attention from first to last. With a cigarette swinging from his thick lips and curly hair as wild and untameable as the man himself Dulquer's Raju comes across an epitome of sinster swag, though I preferred him with less swag in the second-half when he strikes a frightening forlorn figure.
Raju's friendship with the Judas of the show Kannan Bhai (Shabeer Kallarakkal) is the nearest this ruddlerless screenplay comes to a core. Raju and Kannan's journey from love to betrayal leading up to an unnecessarily prolonged fist-to-fist climax rounds off what could be designated one of the better gangster epics in recent times; for epic, King Of Kotha assuredly is.
It is vast in design and spectral in its emotional dynamics. Where it falls short is in stitching together the human relationships more cogently. There are way too many ganglads plotting their own little kingdoms in different corners of the plot. Also, the female characters, even Aishwarya Lekshmi normally seen in power-backed roles, are patchy.
It is like a powerful pastiche waiting to come together in a climactic conflagration pulling back just before hitting the highspot.
Technically, King Of Kotha is beyond reproach. Nimish Ravi's cinematography pries into broken hearts and lets us view these incomplete desperately unhappy characters for what they really are. Uma Sankar Satapathy editing could have been less generous to the choreographed action scenes some of which go on for so long you just want it to stop
Everyone would have his favourite performances. Mine would be Gokul Suresh as a cautionary sub-inspector and Chemban Vinod Jose as a gangster who insists on speaking in broken English. Later, in a bizarre illustration of genealogical continuity, the gangster's son speaks the same way. A spot of humour in a film that would have worked even better if it hadn't taken itself so seriously.
King Of Kotha is a well-crafted period gangster drama with every actor staying in character even when the sprawling screenplay scatters all over the place. Director Abhilash Joshiy maintains a sense of rhythm in the narration even when the plot falters.