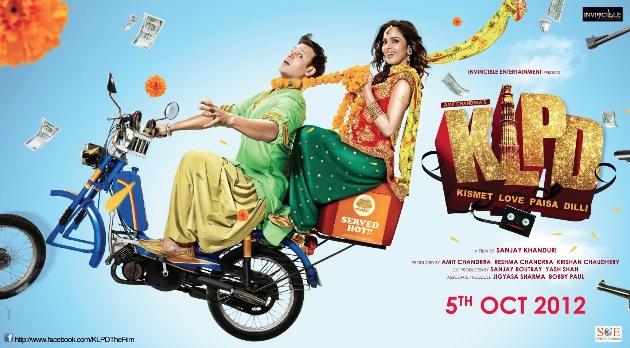 Sanjay Khanduri who gave us Ek Chalis Ki Last Local returns to the screens with another tale that spans over only one night. Kismet Love Paisa Dilli also is a story of two strangers whose paths cross when they miss the same last local on a night in Delhi. Unfortunately for Sanjay and the audience, KLPD is neither as sophisticated, thrilling nor as comical as Ek Chalis was.
Lokesh (Vivek Oberoi) and Lovina (Mallika Sherawat) bump into each other on the streets of Delhi when they both miss the same last local. Lokesh is already in a lot of trouble much before him meeting Lovina and how it all progresses to an end all in one night is what KLPD is all about.
One truly doesn't know why Mr Khanduri felt the need to pack an otherwise okay thriller with crass, insensitive and plain gross jokes. They do nothing but make you uncomfortable and most definitely don't make you laugh in the slightest bit. Apart from the so-called comic sequences that annoy you to no end the film also encompasses: ridiculous sidekicks such as the superhero delivery boy, a random don with his irritating sidekicks and forced Delhite lingo. Combine all of the above and you have what is without a doubt the most unbearable film of the year. Harsh words you think? Give the film a try and you'll think otherwise.
It perhaps wouldn't have been as unbearable had the narrative been a speedy one but instead the makers choose to subject you to a slow and painful torture. KLPD also suffers from a severe case of disjointed scenes and situations. In the midst of a cat and mouse chase the leading pair conveniently land in a Punjabi wedding, which gives an opportunity for the usual girl-versus-boy arguments, pretty Desi outfits and a song and dance sequence.
Vivek fans are likely to exit the cinema hall sobbing. Where on earth is the actor whom we were in awe of after films like Company, Saathiya and Yuva? You get a very slight glimpse of him in the climax but that is about it. It would be interesting to see what this film looked like on paper because upon watching the film you simply don't know why anyone would agree to be a part of it! Mallika Sherawat makes a rare appearance in a mainstream Hindi movie in which she's not … well being Mallika! There's definitely potential for the girl if she puts aside the so-called bold image she's forced herself to adopt and focuses on acting.
The most unfortunate thing about KLPD is the fact that it is based on a decent political premise. Basis for all the problems that Lokesh and Lovina face could have been encompassed in a more than decent film but sadly the makers wanted to destroy their own idea to such a great extent.  If only had it been treated as a serious thriller and not a ridiculous comical thriller loaded with lewd jokes and ridiculous characters. No doubt this is one film in which audiences will exercise their inherent right to walk out of a film. Save yourself the torture and re-watch Ek Chalis Ki Last Local because KLPD is a tweaked version of Khanduri's earlier outing and simply doesn't deserve your time or money.