Karan Johar has joined the remake bandwagon with his forthcoming production Agneepath, a newer version of a 1990 film of the same name, which starred Amitabh Bachchan. Directed by Johar's former assistant Karan Malhotra, this version Agneepath will star Hrithik Roshan, Priyanka Chopra, and Sanjay Dutt in main roles.
In an interview with TWF, Johar was hesitant to label Agneepath an adaptation. "Time and time again I have said this is not an adaptation, this is a tribute to him [Amitabh Bachchan], to Mukul Anand, and Yash Johar… We have made this Agneepath with a great amount of respect and reverence to them…," said Johar.
The updated Agneepath does maintain some resemblance to its namesake. According to Johar, the basic plot is the same in terms of the fact that it revolves around revenge. But he also mentions that there are some notable differences from the original. "That's why I am saying it is a tribute to the original film. I don't want to use the word 'remake' as this word gets misused often," he clarified.
Johar, who has a number of super hit films in his directing repertoire, interestingly did not direct this particular film, citing his reasoning as his incapability to direct action films. "As you have seen there is only one moment of action in my entire career when Amitji slaps Hrithik in Kabhi Khushi Kabhie Gham. That was about the only violence I ever had in my cinema," Johar joked. After hearing Karan Malhotra's vision for the new Agneepath, Johar opted to produce the venture.
Whether Agneepath is considered a remake, adaptation, or a tribute audiences are surely in for a treat. With last month's initial trailer for the film breaking numerous records, it's safe to say the film itself will enjoy a similar fate. Agneepath is slated for release in January 26th, 2012.
Have a look at this gorgeous still from the film Sizzling na?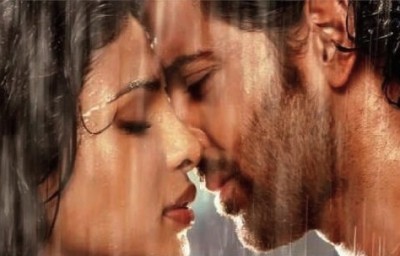 Here's a few more!