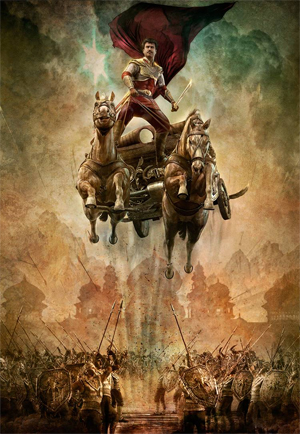 The magnum opus feature film Kochadaiiyaan – The Legend starring the emperor of Indian cinema Rajinikanth and the reigning Queen of Indian Cinema Deepika Padukone, is set to blaze a trail globally in cutting-edge Motion Capturing with Photorealistic Technology, as it rivals and transcends the technological capabilities of Hollywood masterpieces Avatar, Tin Tin and Beowulf.
Referred to as India's answer to Avatar, Kochadaiiyaan is the first Indian film to use full performance capture in its production process, a workflow that was pioneered and optimized on James Cameron's Avatar. The film is also the first film of its kind to be produced in its allocated budget and completed within the timescales set.
Director Soundarya Rajnikanth Ashwin has explored the use of full performance capture in Kochadaiiyaan in its full magnitude. The film's uniqueness also stems from the fact this project combines many modern-era technologies to aid in visual storytelling and bring to life mythological India.
The company on board for Kochadaiiyaan's motion capture process which records the movement of humans or objects in a computer or digitally was Centroid Studios who had previously worked on Brad Pitt's World War Z and Pirates of the Caribbean. Counter Punch Studios based in L.A. were brought in for the facial capturing who collaborated with Faceware Technologies. Their respective credits include Abraham Lincoln Vampire and The Curious Case of Benjamin Button.
During the shoot in London alone, over 90 cameras were used to shoot every scene in the film which captured the performance of each artist from their every angle. Kochadaiiyaan was also equipped with Auro 3D sound technology, becoming the third Indian film to do so.
Speaking about the technological innovations in the film, Soundarya says: "I have been passionately involved in film animation techniques and production for the last six years and for Kochadaiiyaan we wanted to do something unique and decided to do this with the use of Motion Capture technology which was never attempted in its full band-with in India before.
The technology truly captured the essence of the actor's performance, but at the same time allowed us unlimited creativity on all grounds from creating character's looks, building lavish sets, directing expansive fight sequences and creating elaborate costumes. I do hope Kcohadaiiyaan will be a game-changer for Indian cinema on a global level."
After garnering over 3.5 million views for its teaser trailer in a matter of only a few days, Kochadaiiyaan is set to blaze a trail globally in cutting-edge Photorealistic Performance Capture Technology, as it rivals and transcends the technological capabilities of Hollywood masterpieces Avatar, Tin Tin and Beowulf.
South Indian megastar Rajinikanth is cast as the archetypal superhero in the epic dramatisation of good versus evil. He performs a dual role with the reigning Queen of Indian Cinema Deepika being paired opposite the younger character. They are joined by current and veteran stars of North and South Indian Cinema such as Jackie Shroff and R. Sarathkumar for a global, Pan-Indian cinematic treat. The film is directed by Soundarya Rajnikanth Ashwin with music by A R Rahman.
India's first Photorealistic Performance Capture film Kochadaiiyaan – The Legend is not only set to transcend boundaries creating a market first in the realm of world cinema but will cement Indian Cinema's place indefinitely within the global film fraternity.
To see the teaser trailer visit: http://www.youtube.com/erosnow/
Kochadaiiyaan – The Legend releases worldwide in December 2013.