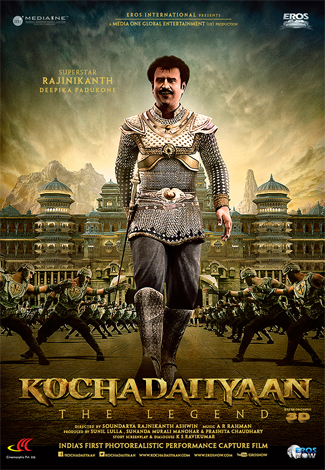 After months of anticipation and several delays, Kochadaiiyaan, the epic motion capture computer–animated film starring South Indian superstar Rajinikanth and Deepika Padukone is finally in cinemas. The film, directed by Soundarya R. Ashwin, is an animation film with Photorealistic Motion Capture Technology, also called Performance Capturing Technology. It is the first of its kind to be produced in India, and being the same technique used in Hollywood blockbusters such as Avatar, expectations about the quality of the film are very high. Is Kochadaiiyaan worth watching? Keep reading to find out!
First of all, here are few lines about the plot. Kochadaiiyaan narrates the story of Rana (Rajinikanth), a passionate, fierce and ruthless warrior, who returns to his homeland with a veiled agenda, to avenge the death of his father Kochadaiiyaan (also Rajinikanth), who was unjustly put to death by the reigning king of Kotaipattinam.
It is worth to point out that the following review is based on the Hindi version of the film. Although most of the aspects analysed below may apply to any version of the film, some others are specific of the Hindi.
One of the aspects to analyse is undoubtedly the quality of the animation. Considering that it is the first attempt to make a film like this in India, the result is quite satisfactory. Action scenes and dance sequences are specially accomplished. It is surprising to see how fights have been accurately captured so battles sequences are realistically portrayed.
Dance numbers are another highlight of the film. Classical dance movements are complex and full of details such as hand postures and facial expressions. Filmmakers have succeeded to transfer these subtleties into animated characters who become talented and skilled dancers.
However, the animation presents numerous flaws and results basic at times. The movements of the actors are sometimes a bit unnatural and some facial expressions are not accurate. Special mention for little Rana and the other children that appear in the film, whose lack of expressivity is shocking compared to the other characters. Filmmakers should have considered working more on these characters, especially Rana who appears in several dramatic scenes as a kid.
Any faults that can be found at the technical part of the film are balanced by an interesting story and an outstanding soundtrack composed by A.R. Rahman.
Despite being an animated film, Kochadaiiyaan offers a complex story, full of epic plot twists and turning points, which keeps the audience on tenterhooks.
What else can be said about A.R. Rahman that has not been said before? The multi-talented composer manages to create the perfect soundtrack for the film. Every song fits perfectly with its corresponding scene as well as provides with intensity or drama as needed.
Overall, Kochadaiiyaan is a notable film at the service of superstar Rajinikanth. The fans of Thalaivar will enjoy a rejuvenated version of their favourite actor in a film filled with courage and heroism.
One way or another, with all its qualities and despite its flaws, Kochadaiiyaan will go down in Indian cinema history as the first Indian motion capture animation film, and it will be remembered for its innovative status rather than its quality.