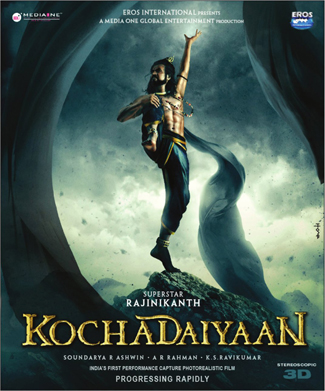 Kochadaiiyaan is an upcoming animated film which has been directed by Soundarya R. Ashwin. Tamil superstar Rajnikanth is the leading star of the film who provides his voice to the leading character, as well as two other key characters in the film. Other stars who have lent their voice for the film include Bollywood beauty Deepika Padukone, as well as Jackie Shroff. The film has been made on a whopping budget of 125 Crores, so let's hope that it does well when it releases in cinemas on 11 April 2014.
Kochadiiyaan will be released in a number of languages, which include Tamil, Telugu, Bhojpuri, Hindi, Bengali, Punjabi, Marathi, as well as English. The music has been composed by maestro A. R. Rahman, who I am sure needs no introduction. The Hindi version of this album has lyrics by Irshad Kamil, Mehboob and Raqueeb Alam. So is the music to Kochadaiiyaan worth listening to? Read on to uncover our verdict!
First up we have Aye Jawaan, which has been sung by A.R. Rahman and Raihanna. Although the music is not bad, I found it to be an average song which had little impact on me. It needed more flavour to it in order to make it a more interesting listen. Hence, skip this one.
Next we have Dil Chaspiyan, sung by Arijit Singh and Jonita Gandhi. Though the vocals were respectably delivered by both singers, unfortunately the music just did not strike me as much as I expected it to. It's a shame as this song had the potential to be really great number.
Following this we have Bol De, sung by Javed Ali. The song contains the use of a range of instruments such as the violin, the horn and drums, as well as a chorus to support Javed in parts of the song. However, it is overall a mediocre song which was boring to listen to throughout. In addition, I found the dialogues which were incorporated into this song to be annoying and should have been left out. Therefore, do yourselves a favour and skip this one!
We also have Vaada Vaada, sung by Shashaa Tirupathi. I love this song which has been performed splendidly by Shashaa. Furthermore, I also appreciated the lyrics, which are well written and blend very well with the tone of the music. There is also a Male Version sung by Karthik, which I found to be less potent in contrast to the Female version. You be the judge and see for yourselves which one you prefer!
Next up is Mera Gham, a duet by Shreya Ghoshal and Javed Ali. I like the unconventional style of this song, which is full of intensity; be it the music or even the vocals. I think both Shreya and Javed provide a great performance in this song and it presents them in an alternative 'avtaar.' Definitely do give this song a listen as I am sure you will appreciate the unique flavours that have been used for it.
Following this we have Thandav sung by A.R. Rahman. I found this to be a messy track which was dull to hear throughout. It just does not any catch to it and will therefore fail to impress you. Therefore, skip this one.
We also have the instrumental number Rana's Dream. I'm assuming this piece of music has been composed so it can be included in a key portion of the film. It has been adequately produced and it has that tranquil factor to it. Do listen to it and see what you think.
Finally we have Aaya Khwaab Ka Mausam, by Raghav Mathur. The music is quite powerful and contains heavy use of instruments such as the violin and drums. I also found Raghav's vocals to be strong and he performs with grace from beginning to end. This is another highlight of the album which is worth your time!
To sum up, I was somewhat disappointed with the music to Kochadaiiyaan, which is lacking in the essences of a typical A. R. Rahman album. Though 'Vaada Vaada' (Female Version), 'Mera Gham' and 'Aaya Khwaab Ka Mausam' are the highlights of this album, the rest of the songs were not very intriguing to listen to. Overall, this was a strenuous album to listen to and I don't think it will have a strong impact!