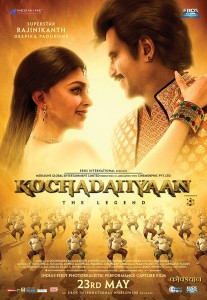 Of course being a Rajinikanth film, we expected a huge opening for Kochadaiiyaan but apparently it has opened even bigger than we imagined. In fact, it is the Biggest Rajinikanth opener.
From what we hear, Kochadaiiyaan is a smash hit breaking all records in Tamil Nadu. Trade pundits are predicting 100 crore share just in Tamil Nadu alone! Overseas too the film creating waves, huge hit in UAE, all records broken as well as a very response in USA, Malaysia and Singapore.
The film is getting early rave reviews and Twitter has come alive with Kochadaiiyaan hastags and mentions!
Releasing worldwide today, Superstar Rajnikanth's 'Kochadaiiyaan' is a hi-tech 3D film with Photorealistic Motion Capture Technology alsocalled Performance Capturing Technology. This is a first of its kind being produced in India. It is worth mentioning that the all-time box-office hit 'AVATAR' directed by James Cameroon and 'The Adventures of TINTIN' directed by Steven Spielberg, have been produced with the same Performance Capturing Technology in Hollywood.
The film stars Rajnikanth in a triple role and Bollywood leading actress Deepika Padukone amongst a host of other acclaimed actors including Sarath Kumar, Jackie Shroff, Nasser, Shobana, Aadhi and Rukmani, 'Kochadaiiyaan' will take audiences on a musical adventurous journey through larger than life battle sequences, intricate period detail and real life actors modelled in the animated world of historic India. Kochadaiiyaan is a historical magnum opus, which narrates a story of powerful deception, portraying Rana, a passionate, fierce and ruthless warrior, who returns to his homeland with a veiled agenda, to avenge the death of his father Kochadaiiyaan, who was unjustly put to death by the reigning king of Kotaipattinam. The conflict of emotions and the blood battle that arises along the treacherous path down love and war, that Rana takes, to fulfill his destiny is the main plot of this story.
THE Superstar Rajinikanth returning to Chennai today to celebrate.
We will have to wait until the weekend to get the final numbers but seems as if Thalaivar has created history at the box office again!