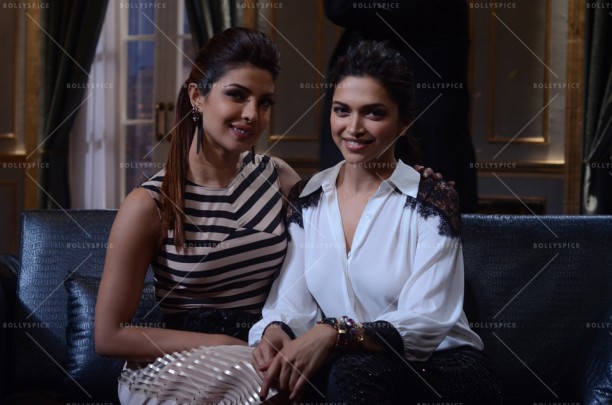 What happens when two top actresses of Bollywood come together for coffee and conversation with K Jo? That's right, lightning strikes! Koffee with Karan Season 4 had one helluva episode when Deepika Padukone and Priyanka Chopra sat down to talk about Bollywood, compatibility, contemporaries and much more!
Priyanka Chopra has been touching different strings with her singing attempt and her sexy item number in Ram Leela recently, and the actress says she has never chosen between singing and her films. "You see, I never took a break from my films. I just worked double the time to be able to do both my films and the songs. It was worth it. Also, being in Bollywood I have a base here but going to a different country with a different culture and trying to make my identity there was a challenge," she said. She spoke about bumping into ex beau Shahid Kapur and feels that it is quite normal as if you belong to the same industry you do tend to cross paths. Daddy's lil girl flaunted her tattoo, talked about missing her father and was quite an entertaining personality on the show.
Deepika Padukone was probably cautious of her words ever since the episode with Sonam Kapoor last season had caused a stir which according to her was just another instance of media sensationalization. "Yeh Jawaani Hai Deewani wouldn't have been what it is if Ranbir and I had any animosity," she said. Talking about her equation with her contemporaries, Deepika said that she is friends with Anushka Sharma (something that 'choked' K Jo, God knows what Anushka has said to him about Dippy) Katrina Kaif and all of them. "I don't know about them, but I am okay with everyone. Priyanka and I obviously get along better and I am closer to her, but if you would ask me to come on this couch with any of the others, you know I wouldn't have a problem," she smiled her million dollar smile. She did not admit to dating Ranveer Singh but simply stated that for her when it comes to being with someone, there is no in between. "I cannot do the casual dating part. I really involve myself emotionally with someone and as of now I am scared of that involvement. I will only be in a relationship when I can really commit. I want to be with someone who brings out the normal side of me, the simple girl side. I am sure every actress looks for that in her man," she stated to which Priyanka nodded in agreement.
Honestly, this episode was going too 'I am goody two shoes and I like everything', even Karan sensed it. With diplomacy at its peak, the rapid fire round followed by the GQ round really perked up the episode. While Piggy Chops wants to give handcuffs to 'this magazine editor whose hands have been in places recently' (Who Who Who???), she dedicates Hips Don't Lie to Sonakshi Sinha and her gay encounter choice would be Deepika. Dippy thinks Salman looks best shirtless and if not in the industry, Kareena should do charity (Ahem ahem, Ram Leela anyone?). She isn't dating anyone at present and she 'knows' who is the better actor between Ranveer Singh and Ranbir Kapoor. Come on, the fans deserve that knowledge! Piggy Chops with her wit won the hamper. The GQ round was a riot, as the girls couldn't give an R.D Burman song and Priyanka very conveniently mixed up scenes from DDLJ and Kuch Kuch Hota Hai. Priyanka yet again won the round. Sorry Dippy!
Yet another episode filled with fun, diplomacy and lots of Bolly talk. Deepika was frankly better last season, but the two girls together were eventually fun to watch. Let's hope there's more to come this season! Tune in for our previews and reviews on Koffee With Karan Season 4.
5 Best Quotes:
"I have never known anything than being sexy." – Priyanka Chopra
"I am very scared to invest emotionally in a relationship." – Deepika Padukone
"If I am not insecure about my man, he wouldn't hold my attention that much." – Priyanka Chopra
"I can walk into a room with all my contemporaries and I will be very comfortable." – Deepika Padukone.
"It is a common perception that actors don't get along." – Deepika Padukone.