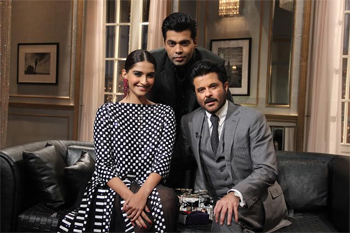 Last week, we had two completely opposite filmmakers talking about the industry and its perceptions and once again this weekend, Karan Johar brings to the couch yet another family. While Anil Kapoor talked about his days and the industry today, Sonam Kapoor was as honest as she always is on this show, in spite of getting into trouble in the earlier season. The episode seems to be the right balance of sweet and spicy, which leaves us to decide for ourselves when the episode airs on Sunday at 9pm on Star World.
Snippets from the episode:
Karan: Does it bother you when you are not labelled as one of the lead actors, performance wise? As in you are getting there…but you are a superstar also, you have that image and vibe, you walk tall like one but does it bother you when they talk about other actors more in the acting department?
Sonam: Well, you know the thing about the industry is they think if you are not good looking they think you are a good actor. It's true!!
Anil: I'll tell you Karan, you will be shocked, Dilip Kumar, you see his earlier releases, for Dilip Kumar they used to say that, for Madhuri Dixit, for her they used to say that usko acting nahi aati yaar, for the first 3-4 films you should read the reviews your friend Khalid Mohammad have written, I am sure he must be watching the show..
Sonam: Khalid uncle is like one of my Godfathers ok, so we should not say and fortunately for me the reason I have survived in the industry is because of the critics, because I don't get bad reviews whether it's a Rajeev Masand or a Raja Sen or a Taran Adarsh or a Komal Nahata they have always praised my performance. 
Karan: In my own experience, I don't think I am respected by the Director's fraternity, I think they think I am this talk show host who is all over the place, has this glamorous kind of film making.
Sonam: This is what I am saying, People make so-called art films, why do you have to take not nice looking people, like why? Doesn't make sense and just that they don't look good does not mean they are good actors. Thats why I have so much respect for Raju Hirani or I have so much respect for Aditya Chopra or you or whatever, because 10 years down the line I would want to watch a Kuch Kuch Hota Hai again, you consider classics like Maine Pyaar Kiya, DDLJ. I want to go down into posterity…you know what I mean. I am considered an icon at the age of 20 when people like after 40s or after they die are considered icons.  It's just amazing!
Karan: She has just called herself an icon!!
Anil: We don't say, people are saying.
Karan: So you have kept your personal life out. Currently apparently there is some boyfriend, is that not true?
Sonam: No boyfriends!! I am very single.
Karan: She has no boyfriends? (asking Anil)
Anil: She has friends…that I have trained her. Kuch bhi ho bolo friends! Just friends.
Karan: This is your training?
Anil: Yes my training!
Sonam: Honestly, I don't feel it, like till I don't decide I want to be with someone for the rest of my life, I don't want to talk about it, I don't want to commit anything to the media because eventually 10 years down the line when I have kids I don't want them to look back in the papers…What is in the paper never goes away!
Rapid Fire
ANIL KAPOOR
Karan: One person who should never think of dating Sonam.
Anil: Ranbir Kapoor
Karan: An actress you wish you would be linked to in your younger days, sorry I apologize for that, in your days.
Anil: Rekha
Karan: You were linked with her.
Anil: *Nods his head in a no*
Karan: You wanted to be linked with her.
Karan: If you were unmarried who is that one actress you would like to take on a romantic date?
Anil: No ya. I am too scared yaa.
Karan: But you are unmarried.
Anil: No but still. Even if I am unmarried I still get scared. I can't even dream. Because if I dream she'll come to know – Sunita. Seriously.
Sonam: So petrified of mom.
Karan: If you could turn into one person from the film industry for 24 hours who would you be and what would you do?
Anil: Adi Chopra.
Karan: And what would you do?
Anil: Come out in the open and…you know to the media and go to parties, enjoy yourself, have fun.
Karan: As a jury member of an imaginary award ceremony to whom would you give the following awards to?
Karan: The most irritating song.
Anil: Was from my film.
Karan: Which is?
Anil: which is Khada hain, Khada hain. It was the worst song.
Sonam: Eww daddy.
Karan: I know this song. Dar pe tere aashiq khada hain. Khol khol darwaza khol.
Sonam: Why do you know this song?
Anil: Me and Juhi fought with the producer, fought and fought. We cried, Juhi started crying and you know.
Karan: And yet you'll sang the song.
Anil: We walked out almost, shooting was stopped. The only regret of our lives.
Karan: True or False. No Actress has hit on me after marriage.
Anil: False.
Karan: Hollywood is more fun than Bollywood?
Anil: No Bollywood's more fun.
Karan: First thing that comes to your mind when I say the following. Answer in one word.
Karan: Academy Awards.
Anil:  Aah, It was one of the greatest moments of my life.
Karan: Critics in India.
Anil: I adore them because they don't know anything.
Karan: Crossover Films
Anil: When will it happen.
Karan: The sexiest actress in India today.
Anil: Katrina Kaif
Karan: If you woke up  as the following people, what is the first thing you would do.
Karan: Salman Khan
Anil: It's not possible.  He's unique, he's special. I can't be Salman Khan.
Karan: Nobody else can wake up as Salman.
Anil: Nobody else can be Salman Khan. Only Salman can wake up being Salman Khan.
Karan: And if you woke up as Shah Rukh Khan.
Anil: Want to be Salman Khan.
Karan: Advice to the following people.
Karan: Ranbir Kapoor.
Anil: I think he should get married now, settle down.
Karan: Arjun Kapoor.
Anil:  I don't think he needs any advice. He's very sensible, very intelligent and he's taking the right steps.
Karan: A rumor you would like to spread about yourself.
Karan: That you are available?
Anil: (Laughs) That I am not available. Actually I am.
Karan: An idea that changed your life.
Anil:  It was not an idea I think, Meeting Sunita changed my life.
Karan: Ya the idea of marrying her.
Anil: No and the idea of being her friend, she being my girlfriend, and being my wife and now my mother.
Sonam: Your mother… (laughs)
Karan: The more stunning actress, you already said Katrina. Deepika, Kareena, Katrina..or you want to change that.
Anil: Katrina ya.
Karan: You are quite a Katrina fan. Papa is quite into Katrina (looking at Sonam)
Anil: No No. I have done maximum films with Katrina and I have seen her, the way she has evolved as an actor, the way she carries herself is fantastic. I have not met her since the last one and a half, two years. I heard she has changed a bit. But if I see her change I am going to give it to her, because I want her to be the same.
 
SONAM
Karan:  What is the one thing the following have that you don't:
Karan: Katrina Kaif.
Sonam: A 200cr film.
Karan: Deepika Padukone.
Sonam: An over enthusiastic PR team.
Karan: If you were playing truth or dare with the following people and you could ask them, or make them do anything, what would you do?
Karan: Ranbir Kapoor.
Sonam:  I mean honestly, I think the only thing is for him to make a serious commitment and get married. I think that's the only thing I would dare him to do.
Karan: Farhan Akhtar
Sonam:  Never wear a shirt. Sorry, dad.
Karan: If you had to access the following people's computers, what would you find in their search history.
Karan: Arjun Kapoor
Sonam: Diets.
Karan: Kareena Kapoor.
Sonam: Pinkvilla. She's huge on gossip.
Karan: Who comes to your mind when I say the following-
Karan: Party starter
Sonam: You
Stay tuned for more from the show in our review coming up.